Last Updated on 16th May 2023 by admin
France, a nation known for its illustrious history, delicious cuisine, and stunning landscapes, is home to several famous places to visit that enthral tourists from all over the world. France provides every visitor with an amazing experience, whether they are interested in stunning architectural wonders or natural wonders. This European Country is known for its power-ridden architecture, magnificent monuments, lush green gardens, beautiful shimmering nights, vibrant days and advanced city life with a cultural variation.
France has a tremendous number of things to offer visitors. This is the most amazing place, where everyone loves to visit once in a life. If you are planning to visit this splendid country, then in this article, we will explore the 14 Famous Tourist Attractions in France that embody the essence of this enchanting country.
1) Eiffel Tower, Paris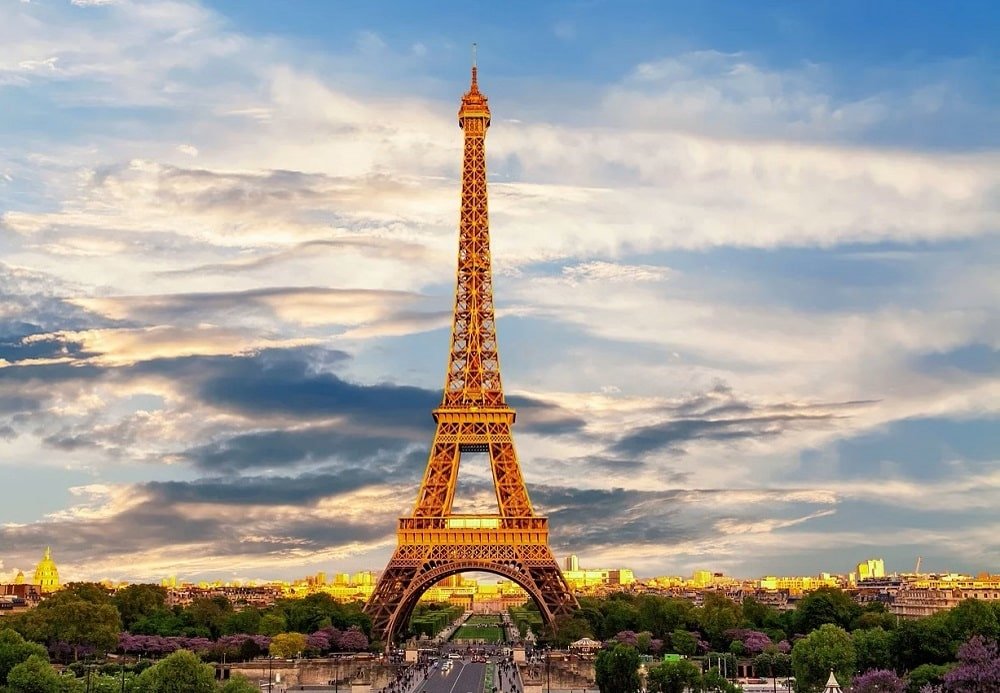 Eiffel Tower is the most popular landmark that was built in 1889 and it is the most famous tourist attraction in France. The elegant observation tower is located in the city of Paris which creates beautiful holiday memories in France. The height of the world famous tower from base to tip is 330m or (1083 ft) and is also known as the "La Tour Eiffel"
Famous for:
The Eiffel Tower was famous for its amazing engineering of the time when it was built to commemorate the 100th anniversary of the French Revolution. For nearly 40 years, it drew attention as the world's tallest tower. Radio shows are also broadcast from the Eiffel Tower. Every night, 20000 light bulbs illuminate the majestic structure, which dazzles the city with its majesty and charm.
2) Palace of Versailles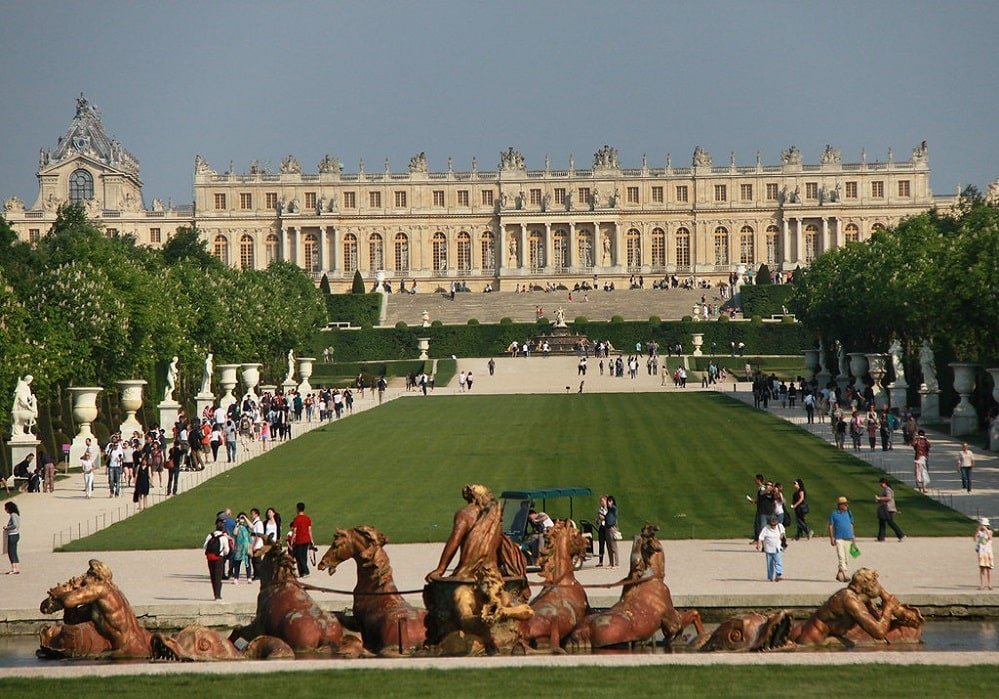 The Palace of Versailles is amongst the most visited tourist places located in the city of Versailles, France. UNESCO has designated the Garden of Versailles as a World Heritage Site. Versailles city covers around 26 square kilometers of surface area. The Palace of Versailles was a royal residence and the architectural splendor of the Palace is legendary.
Famous For:
It features monuments and sculptures depicting soldiers, horses, and battle scenes that are unrivaled in terms of aesthetics and architectural design. Many important historical treaties, such as the Treaty of Paris and the Treaty of Versailles, had taken place in Versailles. The city is known for its rational and symmetrically synchronized grid of streets, which makes it a well-organized French city. It serves as a gathering place for musicians and artists.
3) Louvre Museum, Paris
The Louvre Museum is a world-famous museum and a historically significant location in Paris, France. The museum throws a fantastic view of the beautiful smooth flowing Seine River. It was constructed as a fortress for the royal family in 1190. It showcases some of history's most spectacular works of art.
Famous For:
The Louvre Museum is the world's largest museum and one of the most popular tourist attractions in France, designed in majestic Baroque style. The magnificent museum spanned a massive 652300 square foot area. It was opened as a museum in 1793 by the national assembly with 537 collections of stunning artworks. You can see ancient Roman sculptures, Egyptian antiques, paintings, drawings and prints that witness great artifacts of France.
4) Chamonix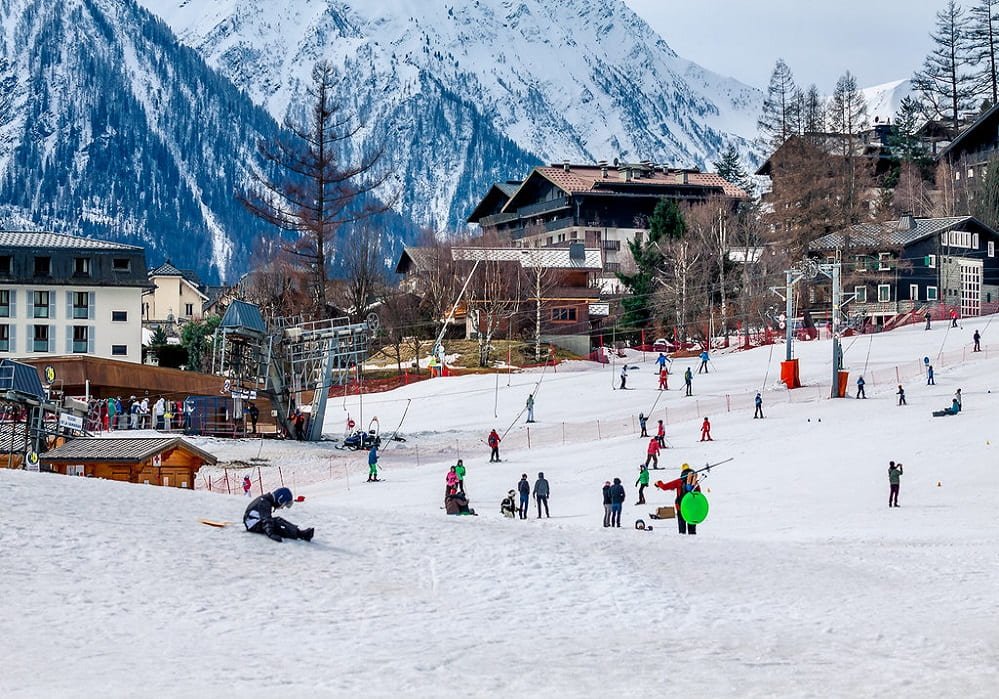 Chamonix is an enchanting valley in the Auvergne-Rhône-Alpes region of France known for its challenging skiing, tedious routes and a marvelous view of Mont Blanc, the highest peak in eastern Europe. Chamonix is known as a luxury destination due to the stunning scenery of the valley and it also hosts various thrilling activities for the tourists.
Famous For:
Chamonix has six different ski areas catered to in the skin resort. The most famous place in France, Chamonix is popular for hiking, paragliding, golf, tennis and rock climbing. Chamonix hamlet is nourished by the spectacular valley's natural creations, which make it more lovely and appealing. Chamonix's top sights are the Aiguille du Midi, Mont Blanc, and Montenvers. These grandeur mountain peaks are accessible via cable car.
5) Gorges du Verdon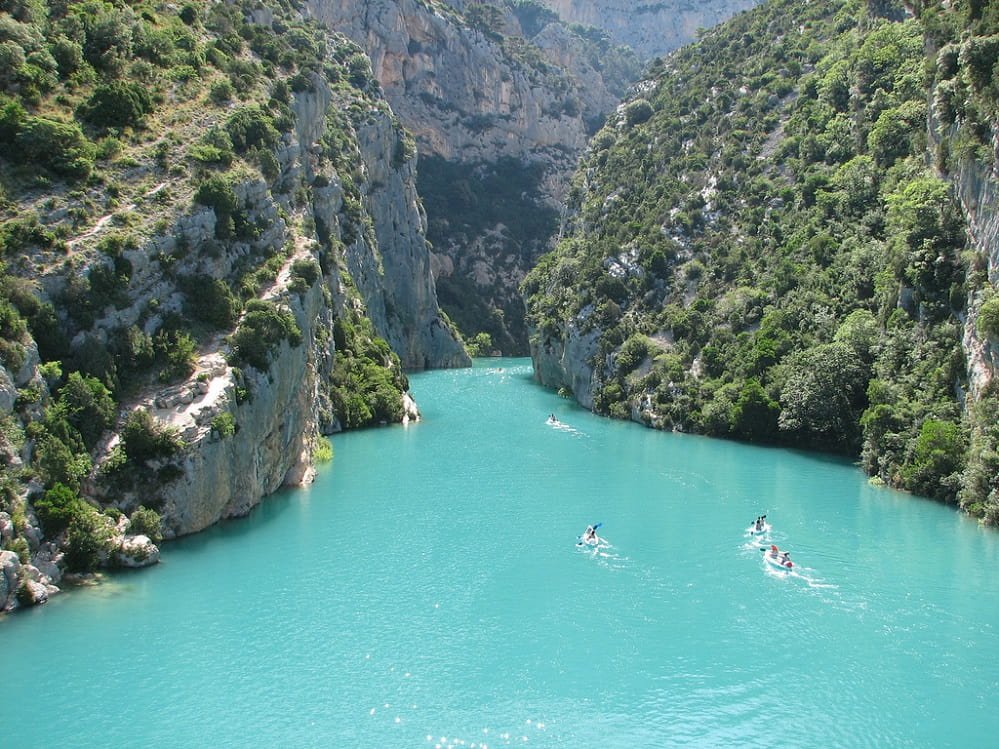 Gorges du Verdon is a river canyon created by the Verdon River, which is 16 miles long with a depth of 700 meters. It is situated in the Provence-Alpes-Côte d'Azur in the south-eastern part of France. The gorgeous green color of microscopic algae and the mountain surrounding it, reflecting in the crystal-clear white water, make this place feel like heaven.
Famous For:
The Gorge du Verdon is Europe's deepest gorge. The gorge's limestone cliff is a rock climber's delight, with a variety of hiker routes ranging from short to longest. This picturesque location offers visitors the opportunity to participate in water sports. These trails provide spectacular views of the area and make it one of the most visited tourist attractions in France. Five hydroelectric dams are located in the Gorge, supplying electricity to major parts of France and water to nearby settlements.
6) Chartres Cathedral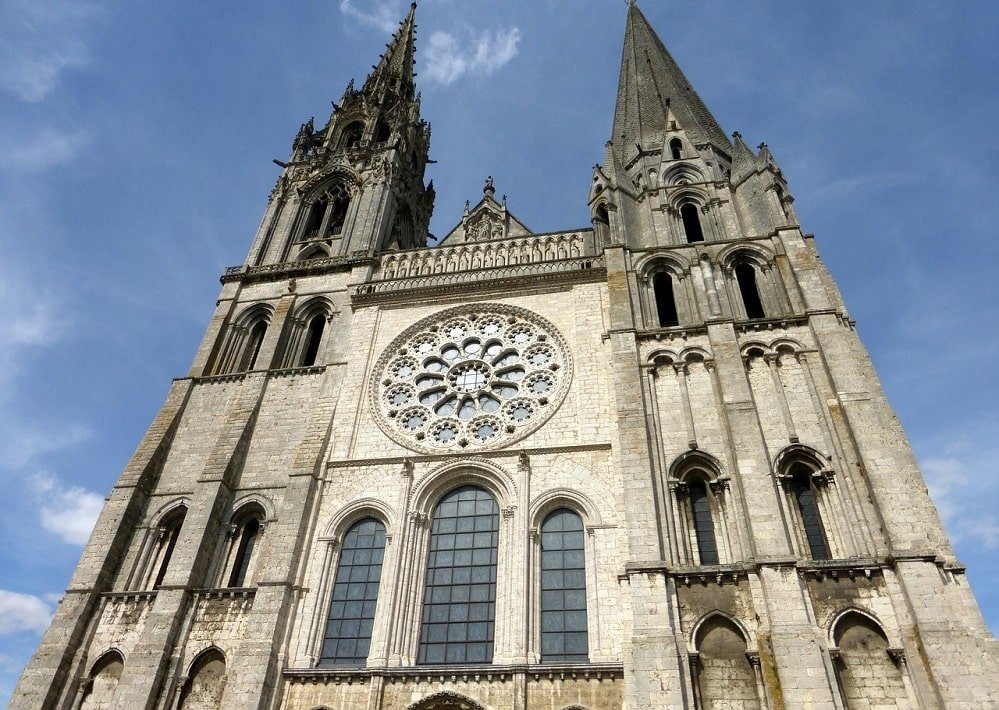 Chartres Cathedral is a roman catholic church. This famous structure in France reflects the top-notched gothic artistic style that makes it a masterpiece. The beautiful church is located in the Centre-Val-de-Loire region in southwest Paris. This sacred place attracts numerous pilgrims across the world.
Famous for:
Chartres Cathedral is one of the oldest churches and it was constructed in 1220. It occupies an area of 10875 square meters. Flying buttress(arches) are strong supports for huge stone buildings, which also give it fine expansion. Chartres Cathedral is a divine and accomplished religious structure with a rose window that gives it an amazing aesthetic appeal. The church is dedicated to mother Mary.
7) Disneyland, Paris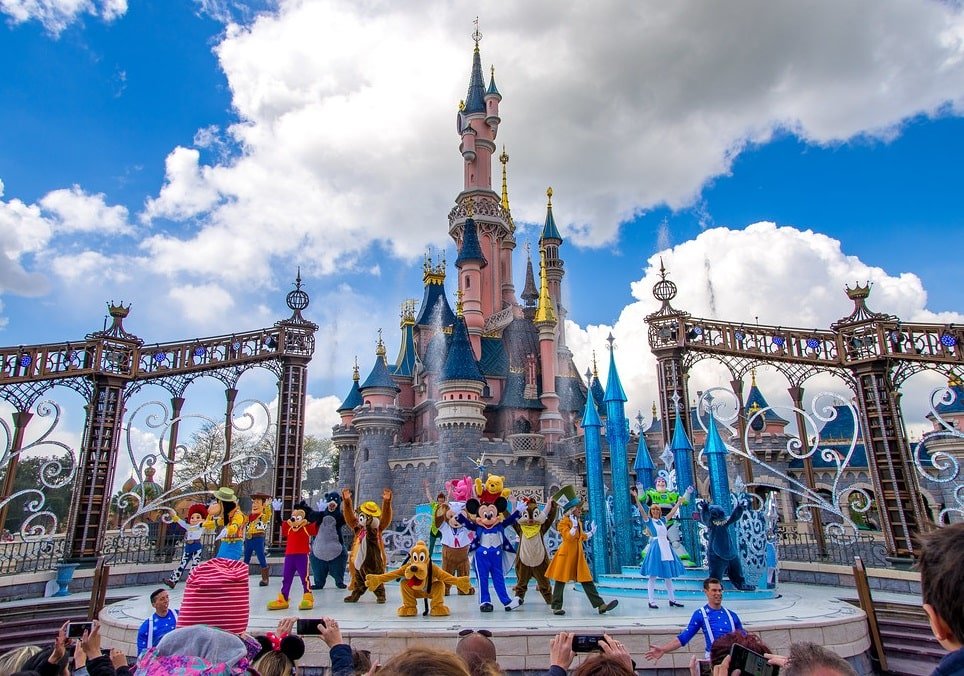 Disneyland is one of the most famous places to visit in France. It's in the Paris neighborhood of Chessy. Disneyland Park and Walt Disney Studios Park are two of the most stunning theme parks in the world. Its covers around 700 hectares (7 square kilometers) of land. Disneyland has a large entertainment complex, a shopping complex, resort hotels, a golf course, and a dining complex.
Famous for: 
This mysterious land is full of wonders; here, visitors will find a network of underground tunnels that will always lead them to the location they choose. Abundant mickey mouse and feral cats are the main reason for children's pleasures at one of France's most iconic landmarks. They like Disneyland's thrilling rides. A trip to the "World of Disney" and "The Disney Gallery" is indeed overwhelming.
8) Chateau de Chambord
Chateau de Chambord is the most elegant castle structure in the world and one of the most famous French Castles. It is built in 1547 in Centre-Val de Loire, France. Chambord has a white shade due to soft limestone with high porosity. It is also one of the top-rated tourist attractions in France. This limestone is the finest to create sculptures and buildings. The majestic building symbolizes Renaissance in France.
Famous For: 
UNESCO enlisted Chateau de Chambord in World Heritage Sites in 1981. The castle hosted many eminent and royal guests in history. It was the place of celebration for cultural events and hunting parties. The main attractions of the castles are the double helix staircase, the display of ancient art on walls, and huge gates, and the grand, splendid garden around it, comprising 600 trees and 15250 plants giving the whole place a great look beyond imagination.
9) Carcassonne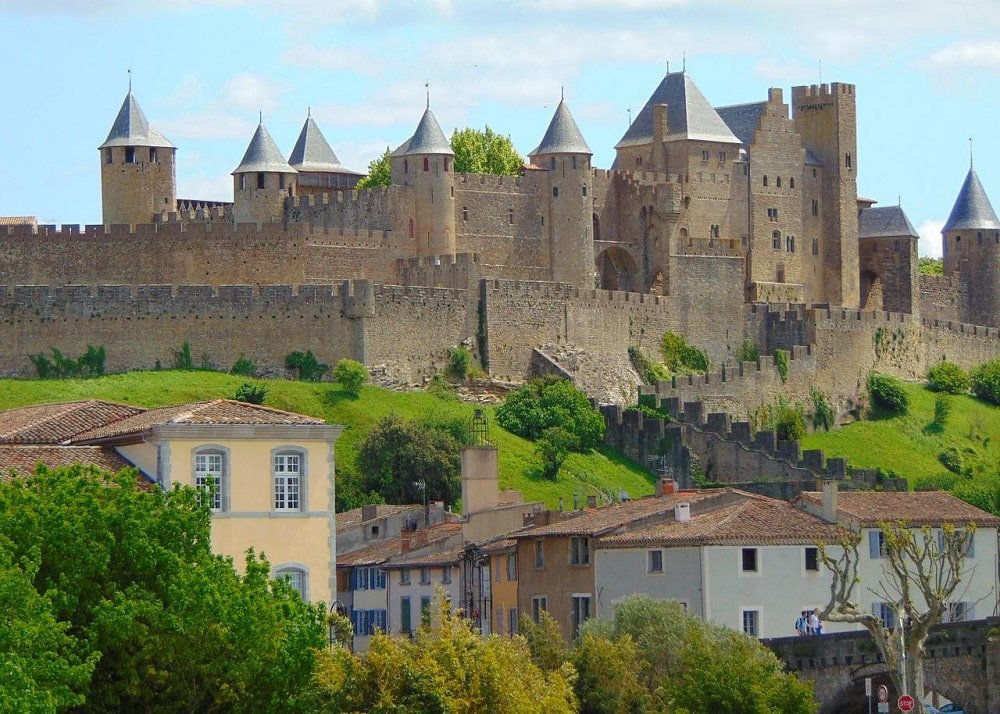 Carcassonne is a picturesque town nestled amidst natural surroundings in southern France. The hilltop town is 65.08 square kilometers in surface area. The most famous city in France, with old guard towers and double-walled fortifications displaying medieval architectural features.
Famous For:
Carcassonne's Plains served as a historic trading route connecting the Atlantic Ocean and the Mediterranean Sea. Because of its architectural splendor and fortification, UNESCO designated Carcassonne Castle as a World Heritage Site. The entire town is built in the shape of a fortress and is surrounded by high walls making it one of the most famous tourist attractions in France. The fortress's extraordinary size and intricate carving work on the walls make it a really stunning site for tourists.
10) Pont Du Gard Bridge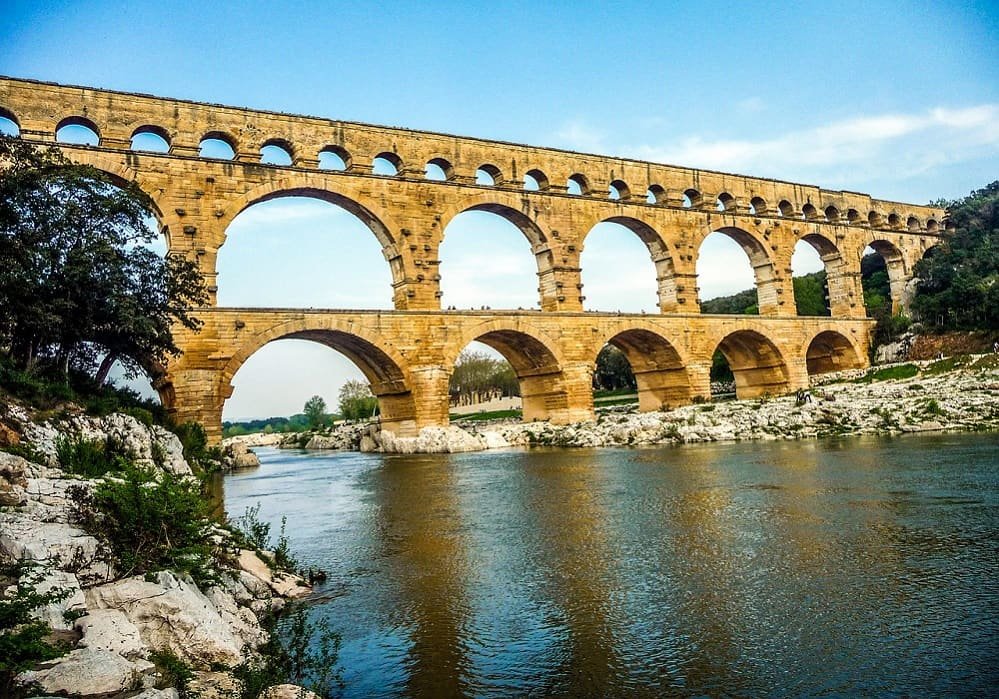 Pont du Gard is an ancient Roman Bridge reflecting the marvelous work of architecture and engineering. It is located in the Gard department of southern France. The massive arch bridge rules the river, Gardon and is one of the most famous bridges in the world. In ancient times aqueduct bridges served as the means to supply water to several miles of France.
Famous For:
It is one of the most visited and famous monuments in France. Due to its historical significance, exceptional preservation, and architectural construction, the Pont du Gard has been designated as a UNESCO World Heritage Site. This unparalleled Roman aqueduct arching bridge stands 49 meters tall and transports water for almost 50 kilometers. These opulent arches served as the primary source of water for home consumption and irrigation.
11) Bordeaux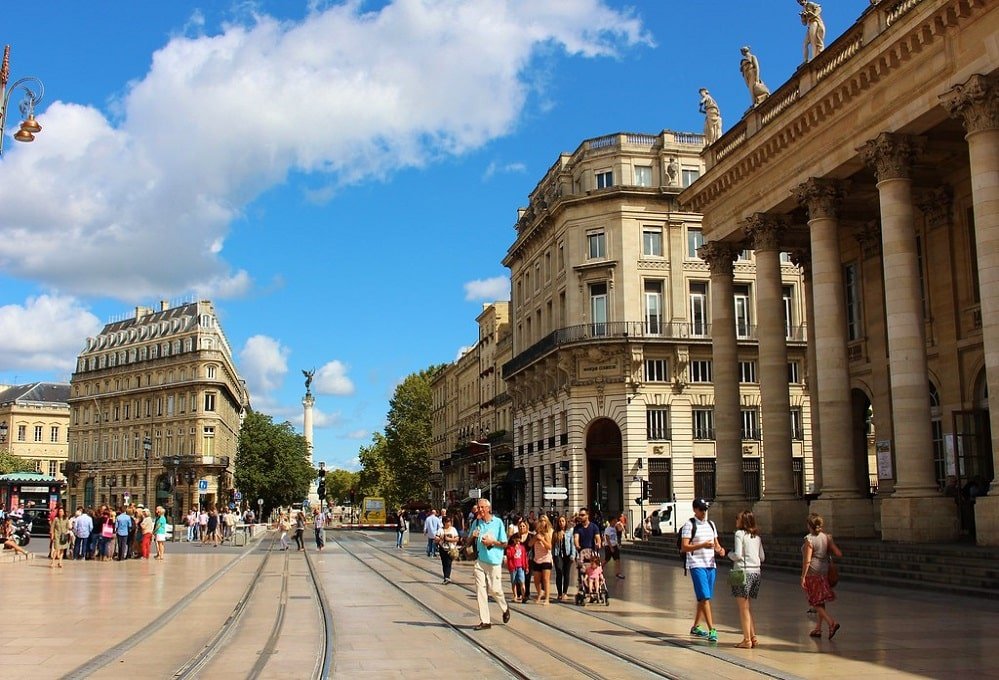 Bordeaux is a port city located on the Garonne River in the southwest area of France. It has a rich cultural heritage and is known as the "world capital of wine". Elegant castles and vineyards host world wine fairs and are famous for wine activities. Railway connectivity improves trading with West Africa and South America. It is the main reason for the expansion of the wine city.
Famous for:
Bordeaux is a world famous tourist attraction that stretches along the Garonne River's beach in a crescent shape. Because of the medieval architecture styles exhibited in arched arches, towering towers, and cathedrals, the ancient section of Bordeaux is a UNESCO World Heritage Site. Bordeaux is the most well-known wine region in the world, producing an ample quantity of wine each year.
12) Promenades des Anglais, Nice
Promenades des Anglaise is a walkway located in Nice, France. It stretches around 4 miles along the Mediterranean coastline. It connects Toulon and Menton through Route National 98. Promenades des Anglaise was used as a pleasant walkway or promenade in ancient times and were the most visited place, even today Promenades des Anglaise is also one of the most visited tourist attractions in France.
Famous for:
Nice city has a list of famous beaches, the Promenade des Anglais, a long-paved path lined with palm trees and cooled by a gentle breeze, creates a delightful seafront. For visitors, the entire stretching region is home to numerous cafeterias and restaurants. It serves as the focal point for a variety of cultural events, carnivals, exhibitions, and sporting activities. Poles and barriers separate the vehicle traffic keeping the pedestrian safe.
13) Mont Saint-Michel, Normandy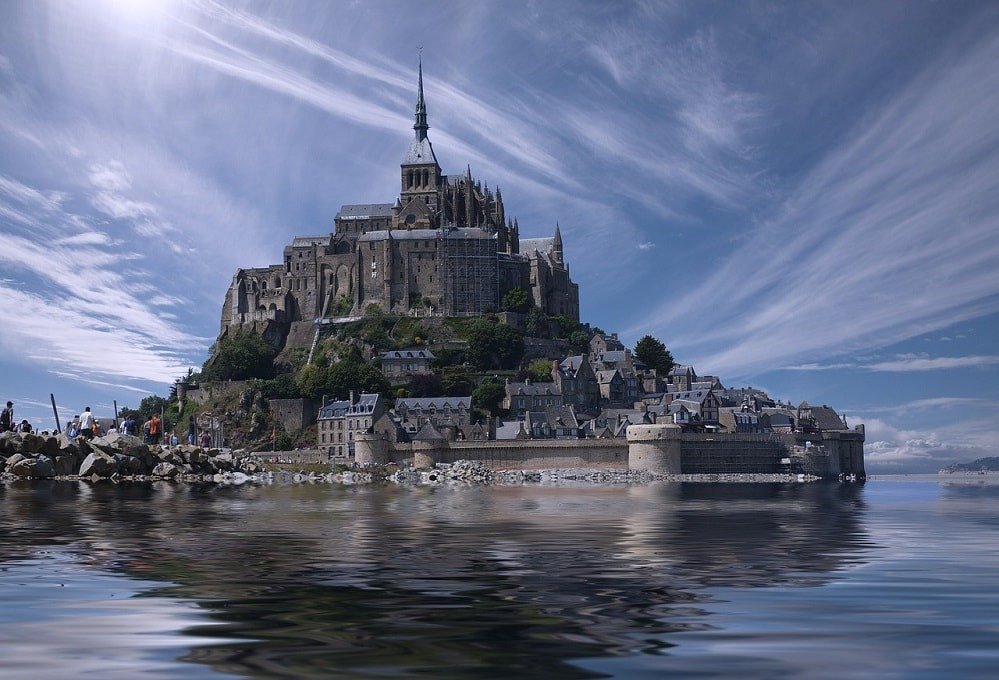 Mont Saint-Michel is an island, located in Normandy, France. It was a major pilgrimage place in the medieval period. A gothic Benedictine abbey at Monte Saint-Michel is a famous place of attraction in France, that has a historic significance. Pilgrims and tourists from all around the world come to this sacred and picturesque place. The magnificent structure rose above the crowded town. The construction within Mont-St-Michel is circular, giving the touch of roman gothic style architecture.
Famous For:
Mont Saint-Michel is one of the most famous castles in the world. The gothic-styled robust structure standing amidst the sandbank, combating high tides produces a divine effect on the whole island. The abbey is a World Heritage Site with old architectural glory and technological strength. It is one of the most beautiful and historically significant ancient civilization sites.
14) Camargue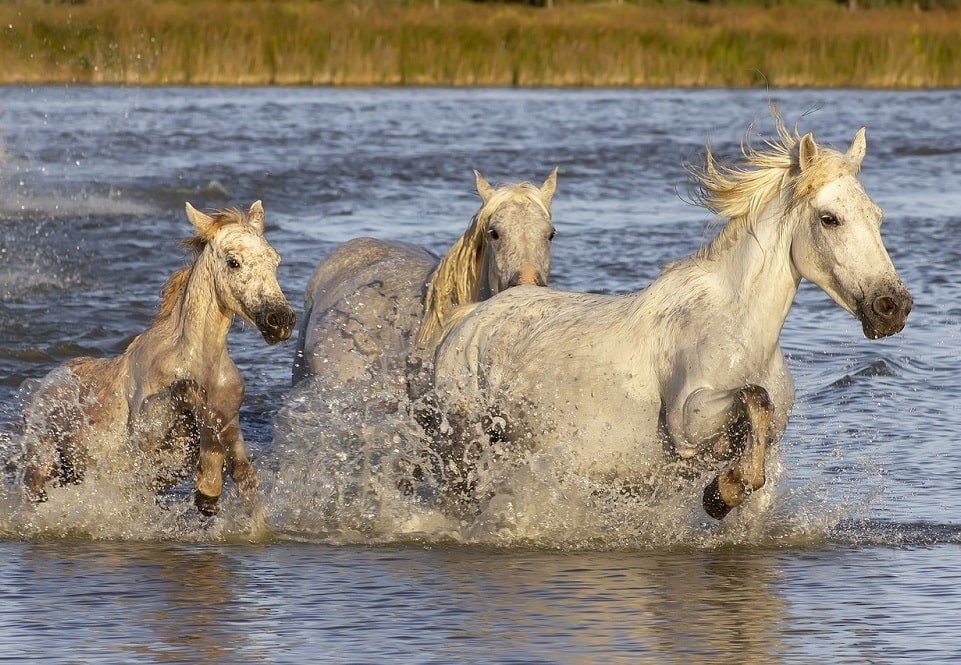 Camargue is a beautiful natural site located south of Arles in France. Parc Régional de Camargue forms the largest delta in western Europe. The Mediterranean Sea and two arms of the Rhone delta surround this region. The Camargue Regional Nature Park is spread over an area of 820 km2 and is the most natural protected part of Europe.
Famous for:
This place is a natural habitat for white horses and black bulls. BirdLife International identified Camargue as an "Important Bird Area". Flamingos are the birds living here in a massive population. This natural site is not only full of beautiful nature, but it is also home to different bird species more than 120 species of bird. The Camargue is one of the most visited tourist attractions in France and every year attracts many visitors from all over Europe.
In terms of culture, architecture, cuisines, and geography, each area of France has its own distinct characteristics. All of the above places contribute to France's popularity as a tourist destination. France provides the globe with iconic structures, lovely beaches, natural locations, architecturally sound historic bridges, and a number of renowned icons of ancient origin. Each attraction offers a certain charm and importance of its own. Whether you love nature, art, history, or simply want to take in the splendour of this beautiful country, there are several attractions to make the trip.
Consider when the best time is to visit these attractions, the availability of guided tours, and pre-purchased tickets as you plan your trip to France. Even while it might not be possible to see all 14 attractions on a single trip, planning your schedule with care will ensure an unforgettable and pleasant experience. So be ready to pack your bags, experience the charm of France, and start on a tour around the 14 Famous Tourist Attractions in France.