Last Updated on 4th May 2022 by admin
Denmark is the happiest country in the world, it is the smallest country in Scandinavia and is a part of the European continent. Copenhagen is the capital of this beautiful nation. Denmark is famous for its tranquil communities, beautiful architecture, metropolitan designs, massive bridges, rejuvenating sandy beaches, coastal cities, and enchanting islands. Denmark has a rich royal history and is home to the world's oldest monarchy. Denmark has astounded the globe with awe-inspiring man-made things that make it an excellent environment for people to dwell happily. Take a peek at some of the most famous tourist attractions in Denmark.
1) Tivoli Gardens, Copenhagen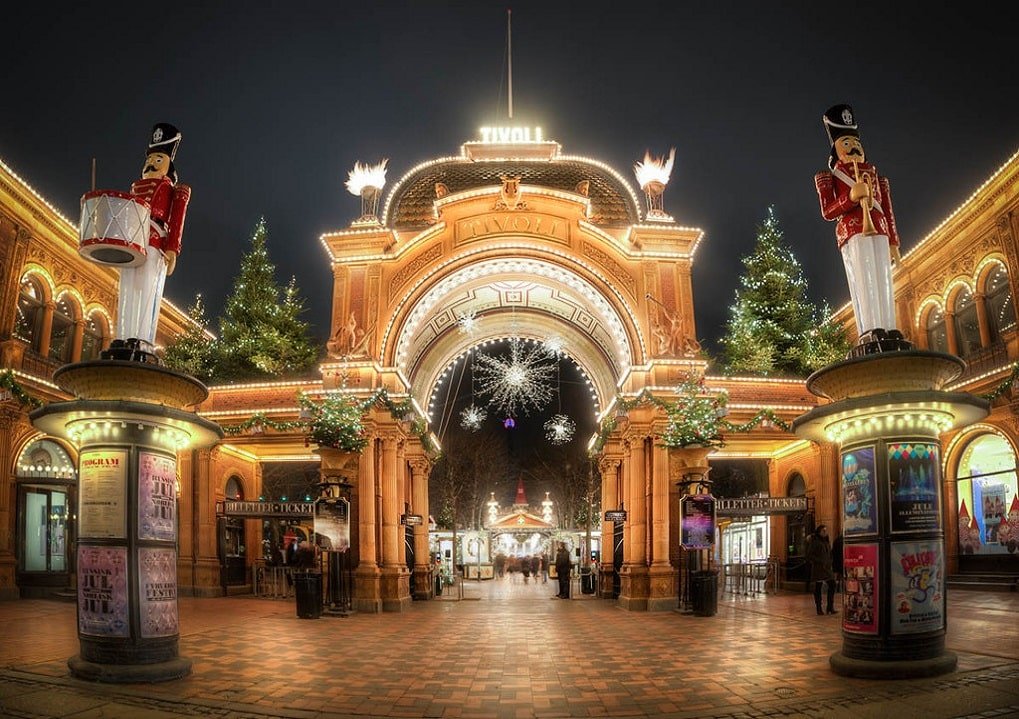 Tivoli Garden is a beautiful pleasure garden in Copenhagen (capital city of Denmark) with a spectacular amusement park. The world-famous park was inaugurated on August 15, 1843. It has undergone multiple reconstructions and redesigns, which is the core reason for its existence, and it is now the third-oldest operational garden in the world.
Famous For:
Tivoli Garden is the world's famous attraction in Denmark.  This exotic park features magnificent structures, theatres, restaurants, café, and thrilling amusement rides such as a merry-go-round, rollercoasters, and water rides. Colorful dazzling lights illuminate the whole garden at night making it an ideal dreamland. People come from all over the world to relax, revitalize and delight in their bodies and minds.
2) Legoland, Billund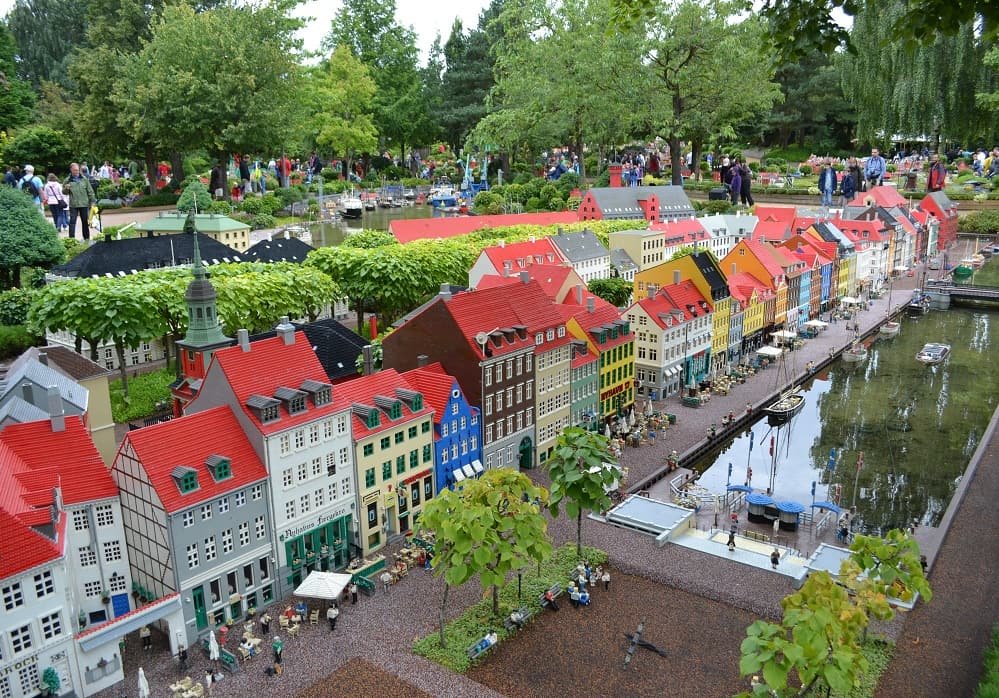 Legoland is a famous theme park in Billund, Denmark.  It first opened its doors to the public on June 7, 1968. The park covers a total area of 14 hectares (35 acres). It is the most popular mini-land spot, with countless sculptures made of plastic Legos, making it a world-famous tourist attraction in Denmark.
Famous For:
Legoland Park is a magnificent amusement park with over 50 attractions and activities, including water rides, roller coasters, a ride to the Knight's Kingdom, a family coaster above Lego Redo village, and more thrilling adventurous places with sports activities. It's a little town made entirely of Legos. It has a complete village, including fields and windmills. This breathtaking place is worth visiting.
3) Nyhavn, Copenhagen

Nyhavn is a coastal town in Copenhagen and one of the major tourist attractions in Denmark. The 450-meter-long 17th-century entertainment venue faces the Nyhavn canal. It consists of colorful residences, pubs, cafeterias, and restaurants. The location is a famous tourist destination in Denmark that offers delicious Danish cuisine as well as a relaxing canal ride.
Famous For:
Nyhavn is a beautiful site, with colorful dwellings providing a distinct beauty to the place and brilliant reflections of the canal. This is the ideal place to try Danish food while enjoying a stunning view of the lake and historic neighborhood. This place is amazing to visit because it has fully outfitted boats, lovely houses, and the best eating establishments. The mesmerizing sunset view adds to the beauty and charm of this location.
4) Oresund Bridge, Copenhagen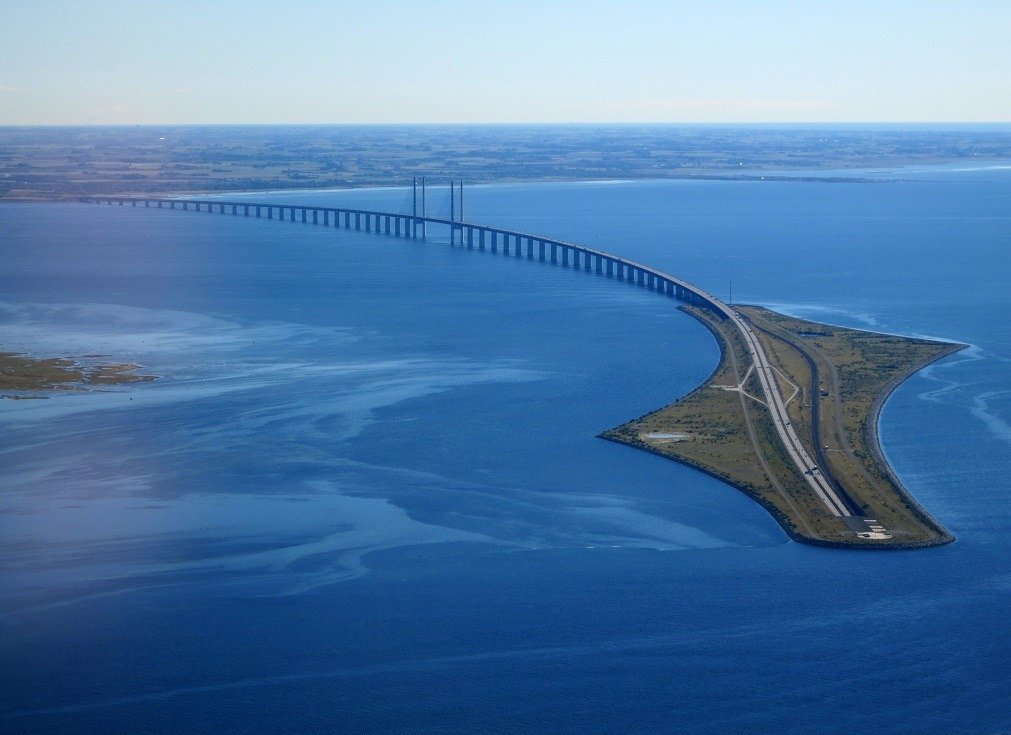 The Oresund Bridge or Øresund Bridge is one of the most famous bridges in the world which connects Denmark and Sweden. It is located in Malmo, Denmark. The spectacular bridge was built between 1995 and 1999 and was opened to the public on July 1, 2000. It runs for 8 kilometers across the Oresund strait from the Swedish shore to Peberholm artificial island.
Famous For:
Oresund Bridge has the longest span of 490-meter and its height is 204 meters. At Peberholm it transforms into an underwater tunnel to give a clear passage for the airplane traffic and give an unblocked channel to the ships. The underwater tunnel known as Drogden is 4 kilometers long and connects to the Danish island Amager. This scientifically designed cable-supported bridge connects the roadway and rail network forming the longest road and rail bridge in Europe.
5) Kronborg Castle, Helsingør 

Kronborg Castle, located in Helsingor, is Denmark's most famous landmark. This Renaissance castle exemplifies Denmark's rich cultural legacy. In 1420, Danish king Eric built it for the first time. After the demolition of the castle by heavy fire, it has undergone several restoration phases with new ornamentation and design.
Famous For: 
The castle is famous for forming the enchanting setting of Shakespeare's Hamlet known as Elsinore. It carries a great architectural and aesthetic value in its design and construction. Stone decorations made of sand, sculptures, copper roofs and ceiling decoration, and a variety of innovative designs made this masterpiece a UNESCO World Heritage Site. The entire structure encompasses dramatic vibes in its miraculous and giant build.
6) Skagen Beaches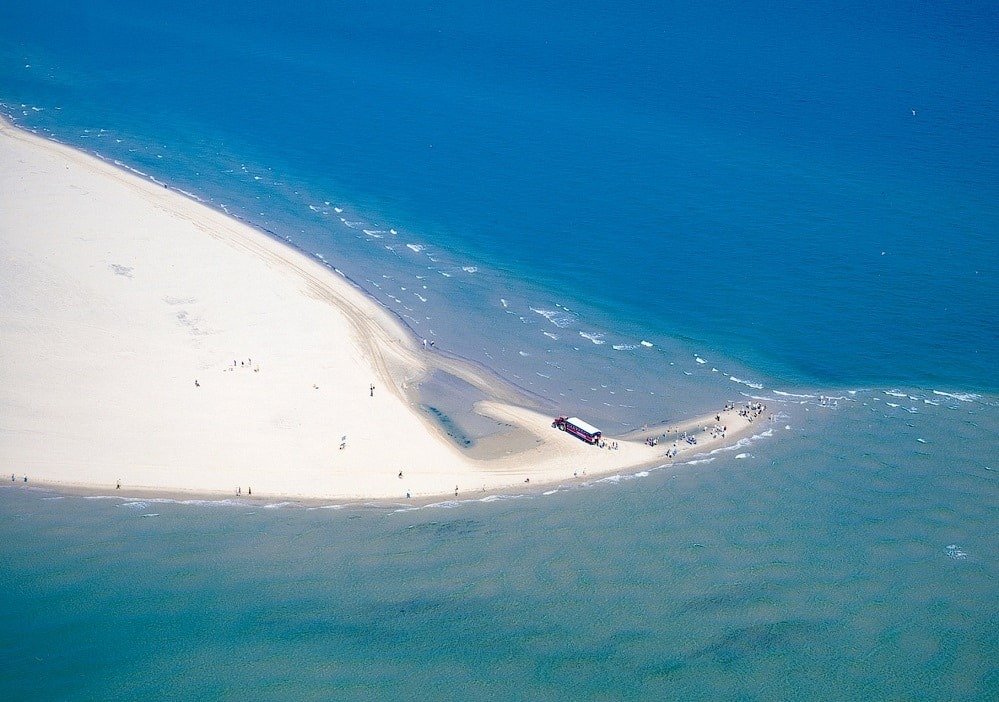 Skagen is the northern edge of Denmark, this area has the most scenic beaches and all of them have blue flag certificates. A blue flag certifies that the beach is well maintained and sustained concerning the quality of water making it ideal for drinking, swimming and fishing. It is one of the most famous beaches in Denmark and attracts many tourists from all over Europe every year.
Famous for
Skagen beaches give the most pleasant and serene environment to refresh mind, body, and spirit with its calm evening breezes and warm sunbath. The Skagen area is Denmark's most popular fishing destination. The most magnificent element of the Skagen terrain is the huge lush green meadows, white sandy beaches, and tranquil water, which provide the most breath-taking scenery. At Skagen's Northernmost point Baltic and north seas meet.
7) Frederiksborg Castle, Hillerød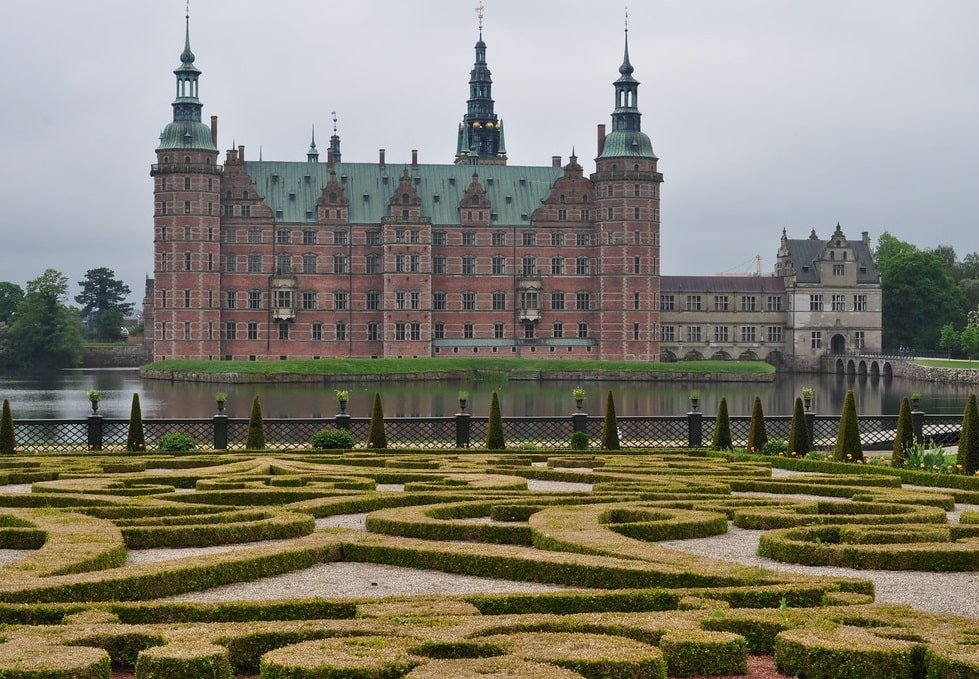 Fredericksburg Castle is one of the most famous castles in the world, it was built in the 17th century, as a royal residence for Danish kings at Hillerod. The Rennaisance architectural style of the castle has a chapel wing, belfry tower and an audience hall. The construction of the tower follows astrological norms resulting in the unique symmetry of the structure. The castle has a Neptune fountain and chapel witnessing outstanding architecture and artisan designs.
Famous For
Fredericksburg Castle reflected the stronghold and powerful status of Danish monarch Christian IV. The massive castle has 70 rooms, comprising famous Danish art, paintings, and designs that illustrate Denmark's historical achievements and culture. The audience chamber, Rose room, Great Hall, Chapel, and Valdemar room are the castle's primary chambers. It features remnants, sketches, and relics to admire. The royal park has beautiful plant species and flowers with artificial lakes that add to the elegance of the park.
Denmark is known for its unrivaled natural wonders as well as man-made monuments, structures, and works of art that not only glamorize the country but also draw tourists from all over the world to see glimpses of its rich culture, proud history and miraculous edifices.