Last Updated on 17th May 2022 by admin
Austria is a country rich in culture and spirituality. It is the world's most visited tourist attraction owing to its unsurpassed architectural achievements shown in immortal castles, buildings, turrets, arches, old towns, and natural assets such as mountains, waterfalls, and valleys. The Country provides the best ethnic structures with ageless historical relevance in medieval Gothic, Romanesque, and Baroque architectural styles. Here are some of Austria's most famous tourist attractions that make it shine out on the globe.
1) Hochosterwitz Castle, Launsdorf
Hochosterwitz Castle is one of the most famous tourist attractions in Austria. This ancient rock castle is a wonderful example of Austria's most imposing medieval architecture built in 860c. Dolomite rock of 173 meters supports the castle structure. It is located on the border of Zollfeld plain in Carinthia, Austria amidst an attractive East alpine region.
Famous For: 
Hochosterwitz Castle is famous for its amazing construction bears 14 gigantic gates that have great significance and was built to provide protection from the enemy and make the castle impenetrable from all around. A tricky slopy path called "fool stairs" enters the castle without passing through gates is another defending constructional part. One of the beautiful castles provides a stunning view of the beautiful landscape of Carinthia.
2) Mirabell Palace, Salzburg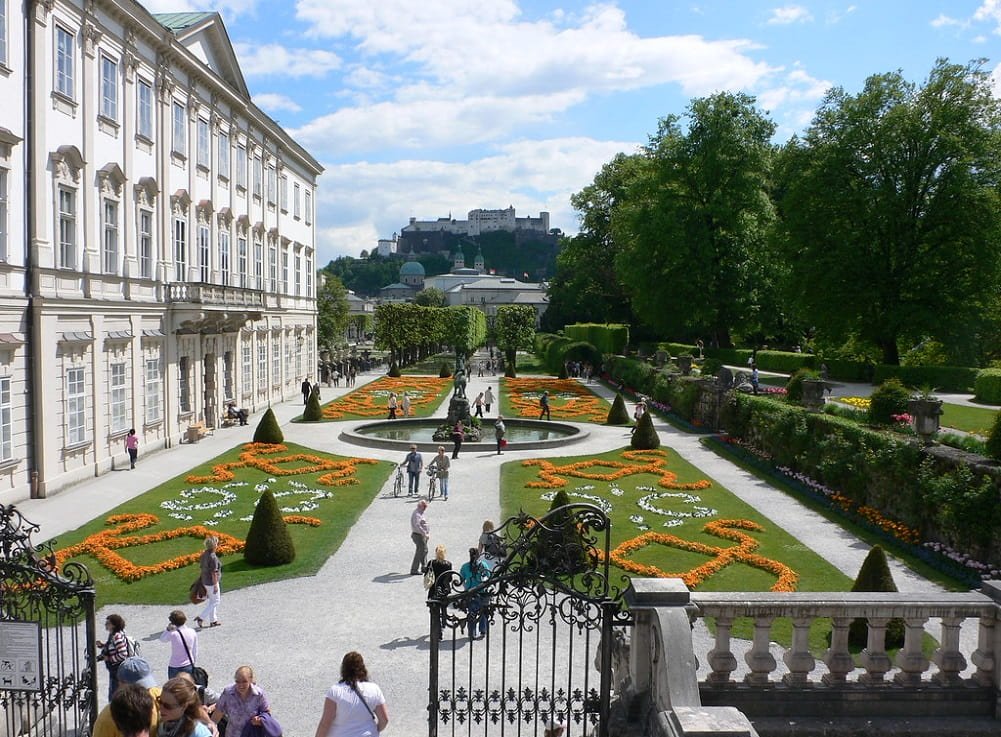 Mirabell Palace, erected in 1606, is a remarkable historic monument that has been well conserved. This beautiful palace is located on the Salzach River in Salzburg, Austria. It was originally created in an Italian style before being renovated in a beautiful baroque architectural style with artistic elements and classic ornamental versions.
Famous For:
Mirabell Palace witnesses the great historic events and celebrations. It was the wedding venue of Gretl Braun the sister-in-law of Adolf Hitler. This famous monument in Austria features beautiful gardens with theme statues depicting Aeneas, Hercules, Paris, Pluto and Dwarf statues. The dreamy structure features an angel staircase, mesmerizing fountain and lush green, vibrant symmetrical aligned garden. UNESCO enlisted this picturesque place in the list of World Heritage Sites.
3) Hofburg Imperial Palace, Vienna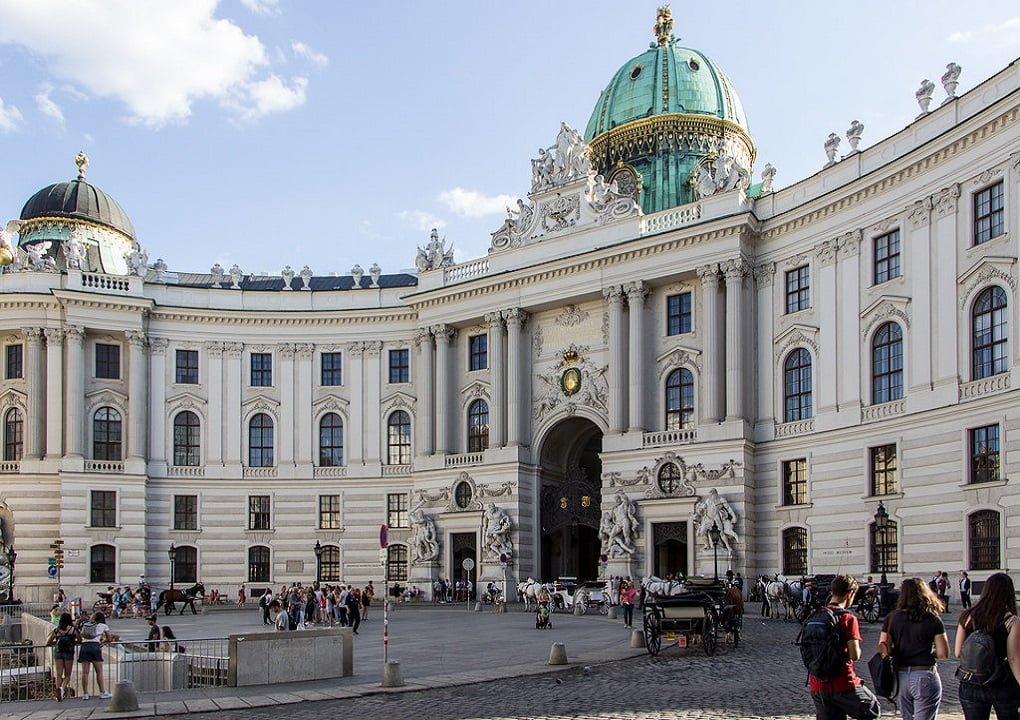 Hofburg Imperial Palace was built in the 13th century. This popular landmark in Austria served as the residence of royal families. The elegant palace is still operational as the official residence and the workplace of the president of Austria. The main attractions of the palace are the imperial court chapel, Amalienburg, Rose room, main hall, Statue of Hercules and Prince Eugene.
Famous for:
It is famous for its unrivaled architectural styles including Baroque architecture that gives a highly embellished theatrical style look to the interior of the palace. Large stained-glass windows pointed arches and flying buttresses reflect the gothic architectural style. Furthermore, the marvelous palace carries the magnificence of neoclassical style in its simple geometric form, roman detailing and flat roofs. Hofburg Imperial Palace is enlisted in UNESCO World Heritage Site.
4) Hallstatt Old Town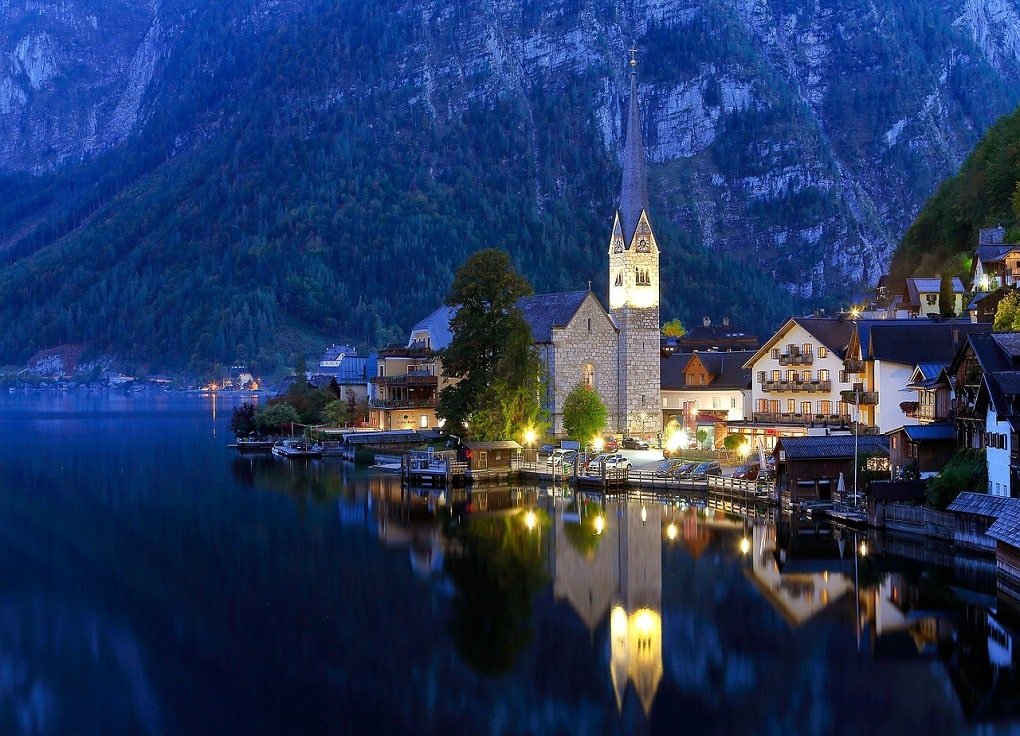 Hallstatt Old Town is a beautiful and lively lakeside village in Austria. The natural green alpine zone surrounding this small town offers a breathtaking view. Lake, mountain and landscape offer a beautiful view of the village from different perspectives. Away from the noise and bustle of the city, this divine place rejuvenates your mind and soul with its peaceful, pure and blissful environment.
Famous For:
Natural panoramic view, old churches, cemeteries and mesmerizing lake view make this village a famous place to visit in Austria. Hallstatt was a massive producer of salt since the bronze age, so the place got its name Hallstatt – "the place of salt".  This historic village has a rich cultural history of more than a 250million years ago. UNESCO enlisted this enchanting place as World Heritage Site.
5) Schönbrunn Palace, Vienna

Schonbrunn Palace is a magnificent historic monument located in Hietzing, Vienna. This Baroque architectural style palace has served as the royal residence of Habsburg rulers. Schonbrunn Palace is Europe's one of most ancient and marvelous structures that encompass breath-taking artisan work and outstanding craftmanship in its walls, roofs and main halls.
Famous For:
Schonbrunn is Austria's most famous landmark and UNESCO has designated it on the list of World Heritage Sites. This elaborative marvelous masterpiece has 1400 rooms and it offers an elegant interior decorated with majestic gold flaked chandeliers and paintings. A beautiful lush green garden alleviates its glory, thus making it one of the best tourist attractions of Austria.
6) Melk Benedictine Abbey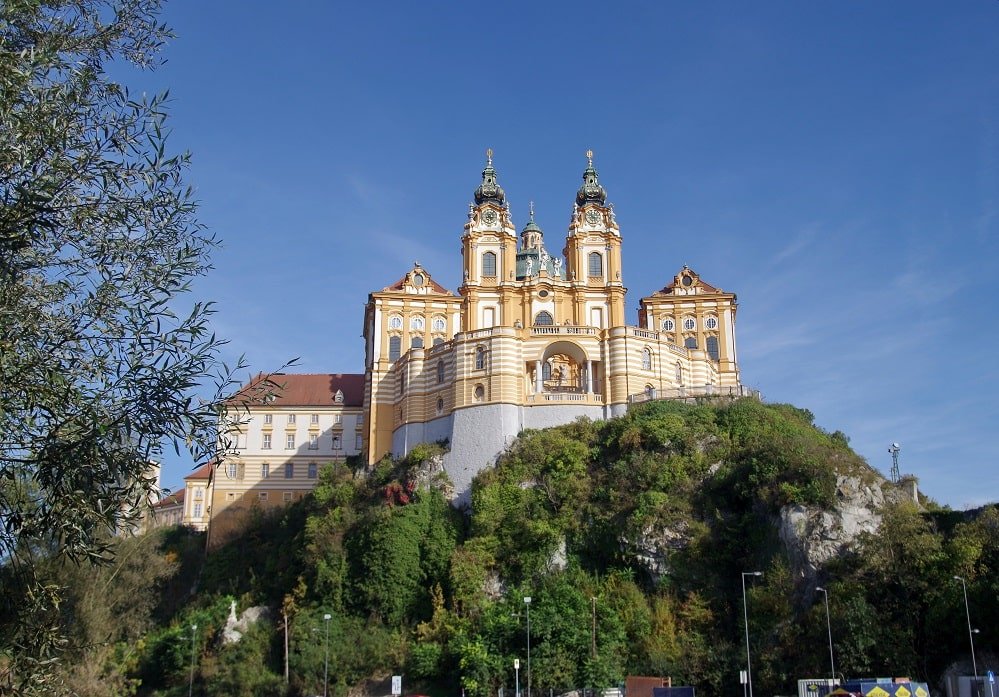 Melk Benedictine Abbey is a gorgeous Benedictine abbey structure in Wachau valley above the Melk town facing down to the Danube River. The abbey was reconstructed between (1702-1736), it has a baroque style with the tomb and pointed structures. The wonderfully colossal monument is visible from the entire valley. The interior details and frescoes (wall painting) are a great example of an unrivaled baroque style.
Famous For:
The Abbey Church in Baroque architectural style contains countless manuscripts including musical manuscripts, and mural paintings depicting the royal customs, culture and lifestyle of Austrians. It also includes major events in the history of Austria. Melk abbey library, embellished staircase, decorative ceiling and jaw-dropping wall paintings attract tourists all over the world.
7) Belvedere Palace, Vienna
Belvedere Palace is the most famous tourist attraction in Austria located in the capital city Vienna. The impressive artistic structure contains two palaces (Upper and Lower Belvedere palaces) featuring baroque architectural style. This famous attraction houses Austria's great artisan work, sculptures and medieval art and paintings.
Famous For:
Belvedere is now Austria's renowned museum that has a collection of the world's famous artwork ranging from medieval to the modern era. It is the oldest and most well-maintained museum of contemporary art, exhibition, social activities and cultural events. Belvedere Palace is a most visited World Heritage Site and the hub that imparts knowledge about the Austrian culture and history. A splendid park surrounds this magnificent structure and enhances its glory with face able sculptures, fountains and beautiful plant species.
8) Hohensalzburg Castle, Salzburg
Hohensalzburg Castle is a marvelous fortress constructed in 1077 and one of the most famous castles in the world. The most ancient and largest castle in Europe is located in Salzburg, Austria.  The world's incredibly ornate castle is a major tourist attraction and is erect atop the mountain Festungsberg. UNESCO enlisted this mesmerizing Bohemian structure in the list of World Heritage Site.
Famous For: 
Hohensalburg castle is a famous landmark in Austria. This eye-catching castle was used as a prison during World War 1. The entire castle has undergone several reconstructions and renovations forming the largest and oldest preserved castle. The Museum of the fortress encompasses archaic weapons, ancient Roman coins and musical instruments. There are well-preserved torture chambers in the citadel
9) St. Stephen's Cathedral, Vienna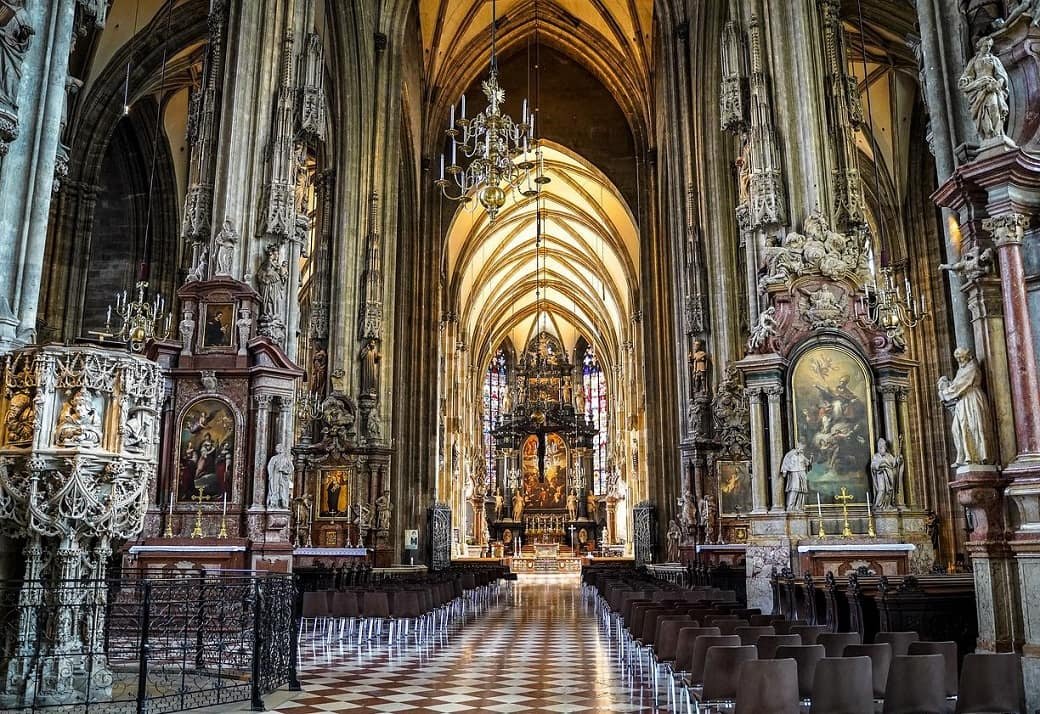 St. Stephen's Cathedral, also known as the Stephansdom, is the seat of the Archbishop of Vienna, Austria. The spectacular Roman Catholic mother church was completed in 1365 in the Romanesque-Gothic style. This antique monument is Austria's most recognized landmark and historic landmark, and one of the oldest churches in Austria.
Famous For:
St. Stephen's cathedral is famous for its brilliantly decorated roofs, walls and doors. The double-edged eagle design on the top of the roof is a symbol of the victorious empire of Vienna. The church possesses 22 massive bells, the greatest of which weighs 20130 kilograms. The church has 18 altars where people can pray. Mother Marie in the Marie Potch Icon is claimed to have cried once. The beautifully carved stone pulpit to project the preacher's voice is the church's second extraordinary structure.
10) Altstadt Innsbruck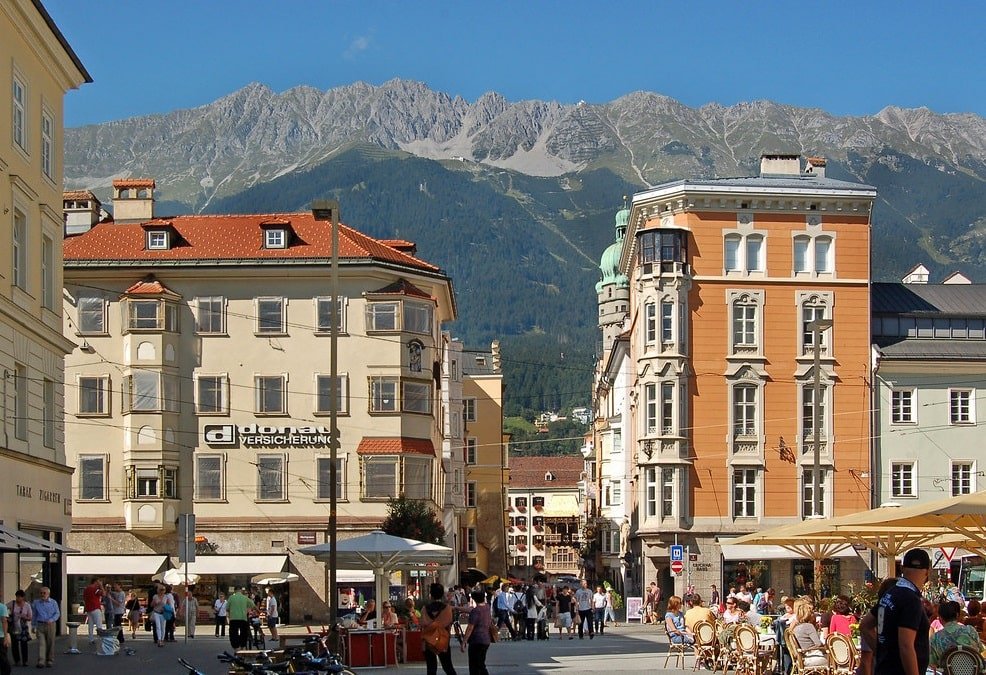 Innsbruck's Alstadt is a lovely historic town nestled in a picturesque valley in Austria. The place offers a majestic cathedral, golden roof, Imperial palace, town tower, numerous stores, bars, arcades and lanes. The atmosphere in the area is clean and refreshing. The old town is now a contemporary establishment with all of the amenities available to tourists. It is situated on the banks of the Inn River.
Famous For:
The city's most popular attractions are pastel-colored medieval structures. In its lovely surroundings, the location supports a variety of winter activities. The breathtaking mountain views, historic buildings, and tranquil environment make this a must to visit destination for travelers.
11) krimmler Ache Waterfall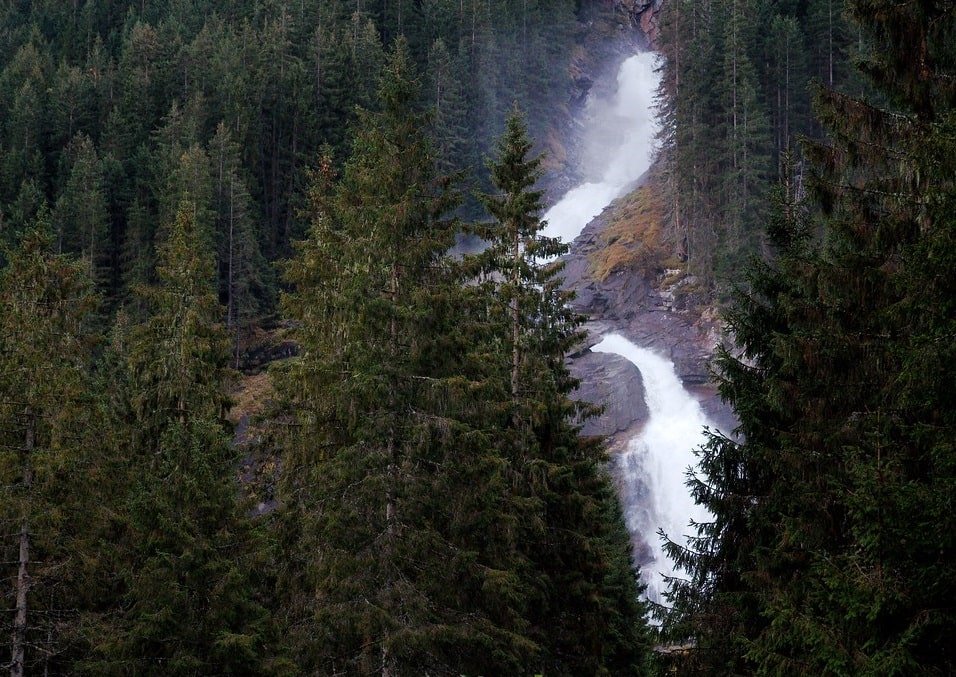 The Krimmler Ache falls are Austria's highest and most famous waterfalls. These are found in Salzburg's lovely Krimmler valley and tumble into the Krimmler River. It features four big falls comprising 381 meters in height. Along the trails, several wonderful viewing platforms provide an incredible view of this natural wonder.
Famous for:
The Krimmler Waterfalls provide visitors with a stunning site to admire. The tremendous height and hazy ambiance formed by the falls provide a beautiful vista that attracts a large number of tourists. The valley's captivating and washed-out landscape appears beautiful, and it provides an artful vision that restores your spirit and mind.
12) Clock Tower, Graz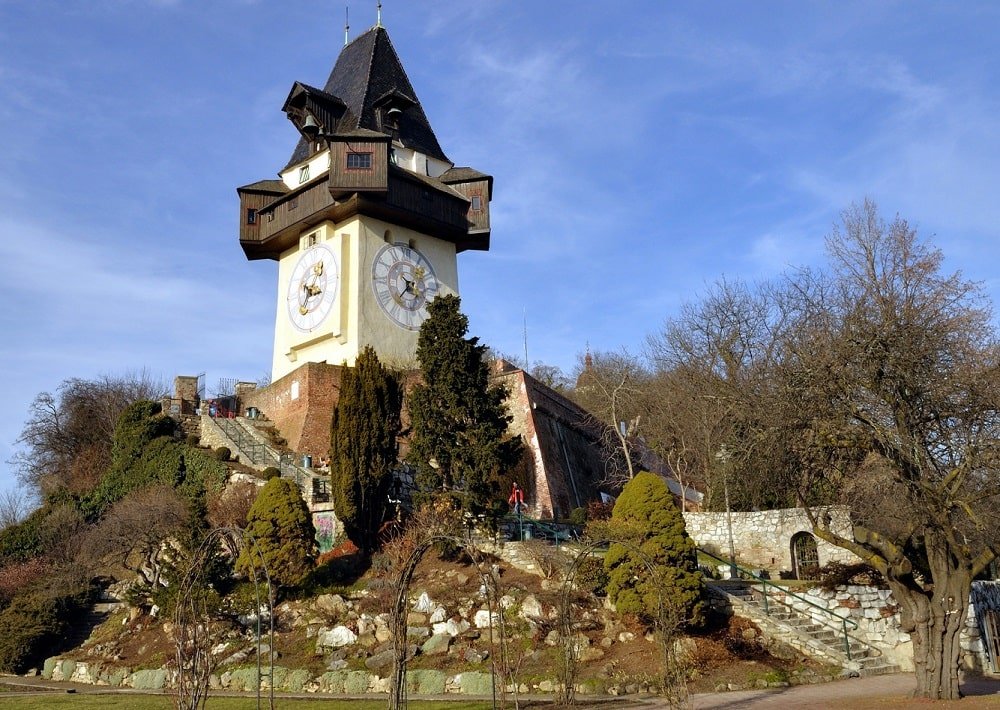 The famous Clock tower in Graz is one of the most remarkable structures in Austria. The giant and artistically carved medieval tower have a gigantic clock that is visible from a long-range. This tower clock is constructed in 1712 and is still operational.
Famous for:
The Clock Tower Graz is known for its remarkable structure, which holds one of the oldest and largest fire bells (3rd largest in Styria), which is used to alert the fire department in the case of an emergency. Decorative gates, walls, and the beautiful green surrounding of the clock tower attract visitors.  The magnificent tower, which stands at the city's highest point and faces the downtown area, is quite magnificent.
It has been our endeavor in this article to present to you the famous attractions of Austria. It is a wonderful Country with incredible natural beauty, majestic mountain views, and architectural marvels that attract visitors in droves. The artistic creativity in towers, sculptures, and castle interiors amaze the world.