Last Updated on 17th September 2023 by admin
Spain, a country known for its vibrant culture, stunning landscapes, and delicious cuisine, has also been the home to many famous person who have left an enduring legacy. From explorers and artists to scientists and politicians, Spanish history boasts an impressive array of influential people. In this comprehensive guide, we'll take you on a journey through the lives and achievements of 17 famous people from Spain, shedding light on their remarkable contributions to the world.
1) Pablo Picasso (1881-1973)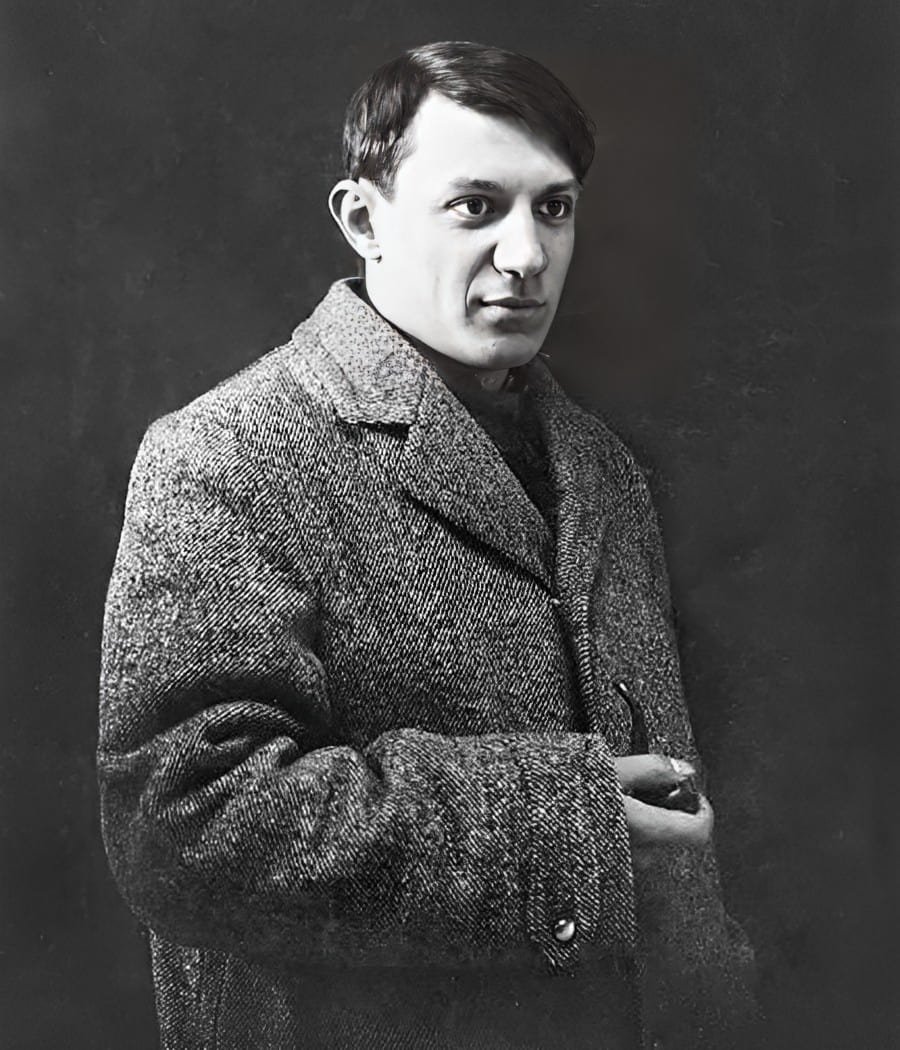 Pablo Picasso was a Spanish painter, sculptor, printmaker, ceramicist, stage designer, poet and playwright. He is one of the most iconic famous people from Spain, made an indelible mark on the world of art. This Spanish-born artistic luminary began as a child prodigy and matured into a pioneering force, significantly impacting 20th-century creativity.
Picasso's diverse oeuvre traversed various artistic movements, including Cubism, Surrealism, and Neoclassicism, reflecting his relentless quest for innovation. "Guernica," arguably his most famous painting, stands as an indomitable symbol of anti-war sentiment. Created in response to the horrors of the Spanish Civil War, this powerful painting continues to resonate with its visceral portrayal of suffering and despair.
Picasso's work transcended traditional boundaries, pushing the limits of artistic expression. His prolific career included not only paintings but also sculpture, ceramics, and even stage design. His legacy endures as a testament to the transformative power of art, inspiring generations of artists and leaving an indelible mark on the world of creativity.
2) Salvador Dalí (1904-1989)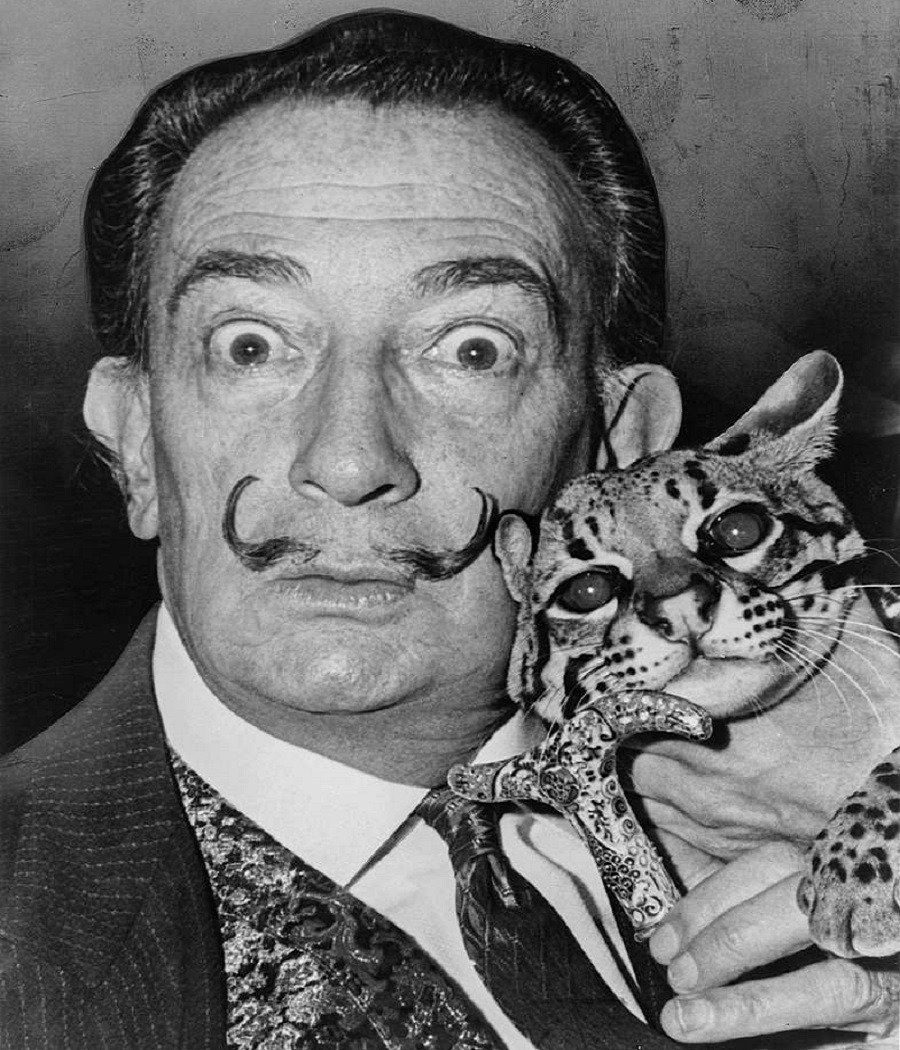 Salvador Dalí was one of the most famous and influential artists of the 20th century. He is a prominent person in his country and leaves an indelible mark on the world of art with his surrealistic creations. Born in Figueres, Catalonia, Dalí was famous for his eccentric and imaginative works that challenged the boundaries of reality.
Dalí's art was characterized by dreamlike, fantastical imagery, often featuring distorted and surreal landscapes inhabited by bizarre and strikingly detailed objects and figures. Some of Dalí's most famous works include The Persistence of Memory (1931), An Andalusian Dog (1929), and The Melancholy of the Infinite (1930). All of these works feature Dalí's dreamlike, strange, and provocative imagery.
This masterpiece exemplifies his ability to blend the familiar with the bizarre, inviting viewers to explore the depths of their subconscious. Beyond painting, Dalí delved into other artistic mediums, including sculpture, film, and fashion. His eccentric personality and flamboyant persona contributed to his status as a cultural icon.
3) Antoni Gaudí (1852-1926)
Antoni Gaudí was a Spanish architectural genius hailing from Catalonia. Gaudí was born in Reus, Spain, on June 25, 1852, he was considered as a genius in the list of famous people from Spain. His visionary designs have left an indelible mark on Barcelona's cityscape and continue to captivate people worldwide.
Gaudí's architectural style is characterized by its organic forms, intricate detailing, and innovative use of materials. His magnum opus, the Sagrada Família, is a prime example of his work, which is one of the most famous churches in Barcelona. This monumental basilica, a UNESCO World Heritage Site, remains unfinished but stands as a testament to his unique vision. Its soaring spires, intricate facades, and remarkable interior are a harmonious blend of Gothic and Art Nouveau influences.
Another of Gaudí's iconic creations is Park Güell, a public park featuring whimsical, mosaic-adorned structures and serpentine benches. It's a captivating showcase of his playful and imaginative approach to architecture.
Gaudí's commitment to integrating architecture with nature and his focus on sustainability were ahead of his time. His work continues to inspire architects and artists, making Antoni Gaudí an enduring symbol of innovation and creativity in the architectural world.
4) Queen Isabella I (1451-1504)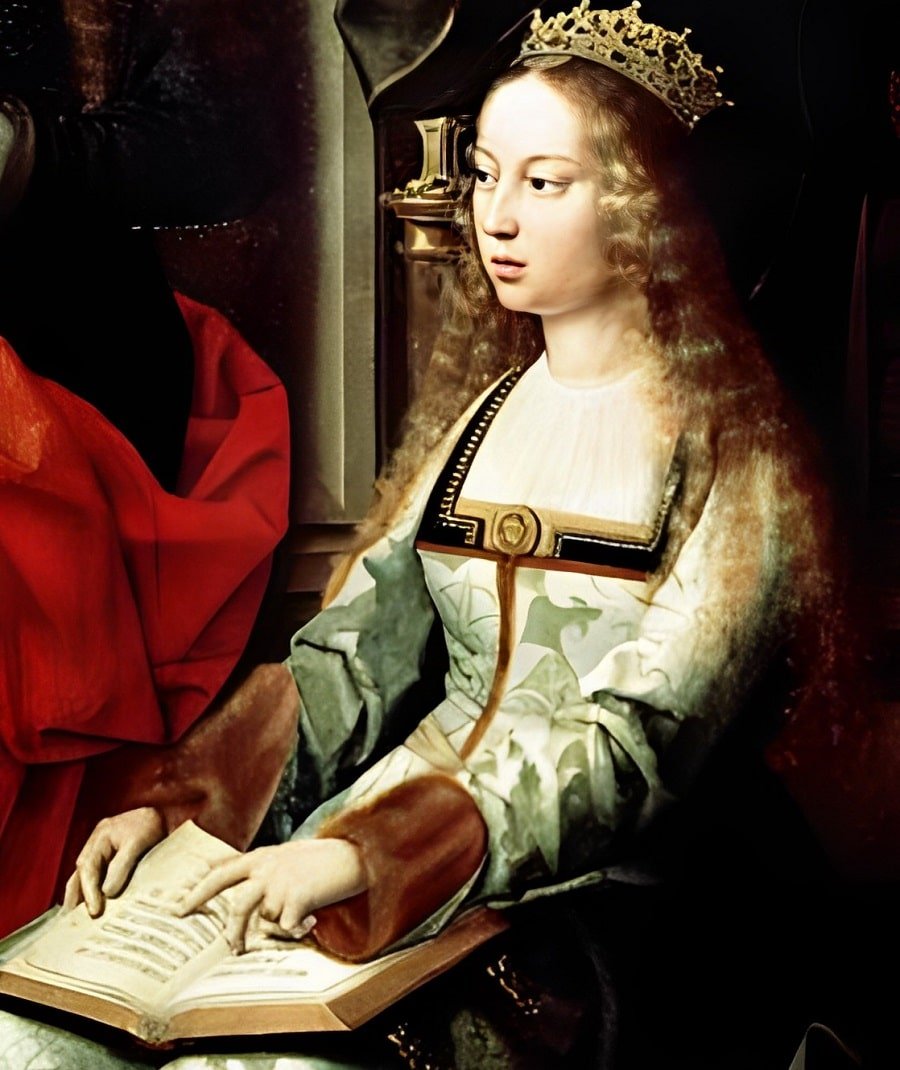 Queen Isabella I of Spain, also known as Isabella the Catholic (Spanish: Isabel la Católica) played a pivotal role in shaping Spain's destiny. Isabella was born in Madrigal de las Altas Torres, Castile, on April 22, 1451. She was the third child of King John II of Castile and his second wife, Isabella of Portugal.
Her marriage to Ferdinand II of Aragon united Spain, leading to the establishment of the Spanish Empire and Christopher Columbus's famous voyage to the New World in 1492. Isabella was a wise and capable ruler, and she played a key role in unifying Spain and making it a major European power.
Isabella's reign also saw the end of Muslim rule in Spain with the capture of Granada in 1492, concluding the Reconquista. Her support for the Spanish Inquisition left a lasting impact on religious life in Spain. She was also a strong advocate for the arts and sciences.
Queen Isabella I's legacy is deeply intertwined with Spain's rise as a global power and her contributions to exploration, expansion, and religious identity. Her reign is a defining chapter in Spain's history, and her influence continues to be studied and debated by historians worldwide.
5) Antonio Banderas (1960-present)
Antonio Banderas (born August 10, 1960), a distinguished actor, director, and producer, stands out as one of the most recognizable and accomplished figures among famous people from Spain. Born on August 10 in 1960, Malaga, Banderus left an indelible mark on both Spanish and international cinema.
His career is characterized by remarkable versatility, spanning a wide range of roles across various genres. From action-packed performances in films like "Desperado" and "The Mask of Zorro" to his voice work as Puss in Boots in the "Shrek" franchise, Banderas's talent and charisma have earned him a global fanbase.
Beyond his acting prowess, Banderas has also ventured into directing and producing, further establishing his influence in the film industry. His work behind the camera includes films like "Crazy in Alabama" and "The Skin I Live In."
Banderas is a highly respected actor and filmmaker. He has won numerous awards for his work, including a Goya Award for Best Actor for his performance in Pain and Glory (2019). His contributions to both Spanish and Hollywood cinema continue to be celebrated by audiences and critics alike.
6) Rafael Nadal (1986-present)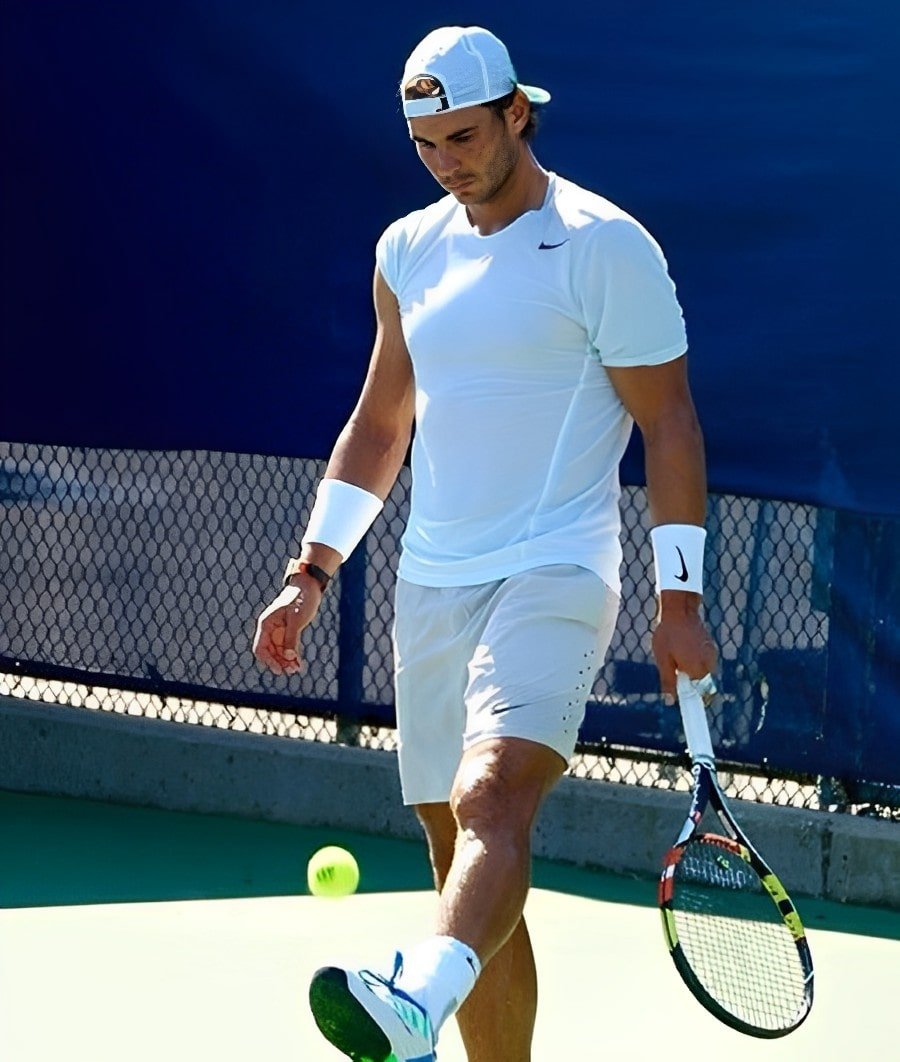 Rafael Nadal, born in Manacor, Mallorca, June 3, 1986, is a professional tennis player who is widely regarded as one of the greatest of all time and one of the most celebrated and iconic athletes. He has left an indelible mark on the world of tennis and sports in general. Nadal is often referred to as the "King of Clay" for his unmatched dominance on clay courts, but his prowess extends to all surfaces.
With a combination of unwavering determination, relentless work ethic, and exceptional skill, he has clinched numerous Grand Slam titles, including several historic victories at the French Open. In 2005, he won his first Grand Slam title at the French Open. He went on to win the French Open again in 2006 and 2007, and he also won the Wimbledon Championships in 2008.
His fierce competitiveness on the court is matched by his humility and respect for opponents. Off the court, Rafael Nadal is also known for his philanthropic efforts and dedication to charitable causes, exemplifying his commitment to making a positive impact beyond the tennis arena. As a sports legend, Nadal's legacy continues to inspire aspiring athletes and fans alike, cementing his place as one of Spain's most cherished and celebrated figures.
7) Miguel de Cervantes (1547-1616)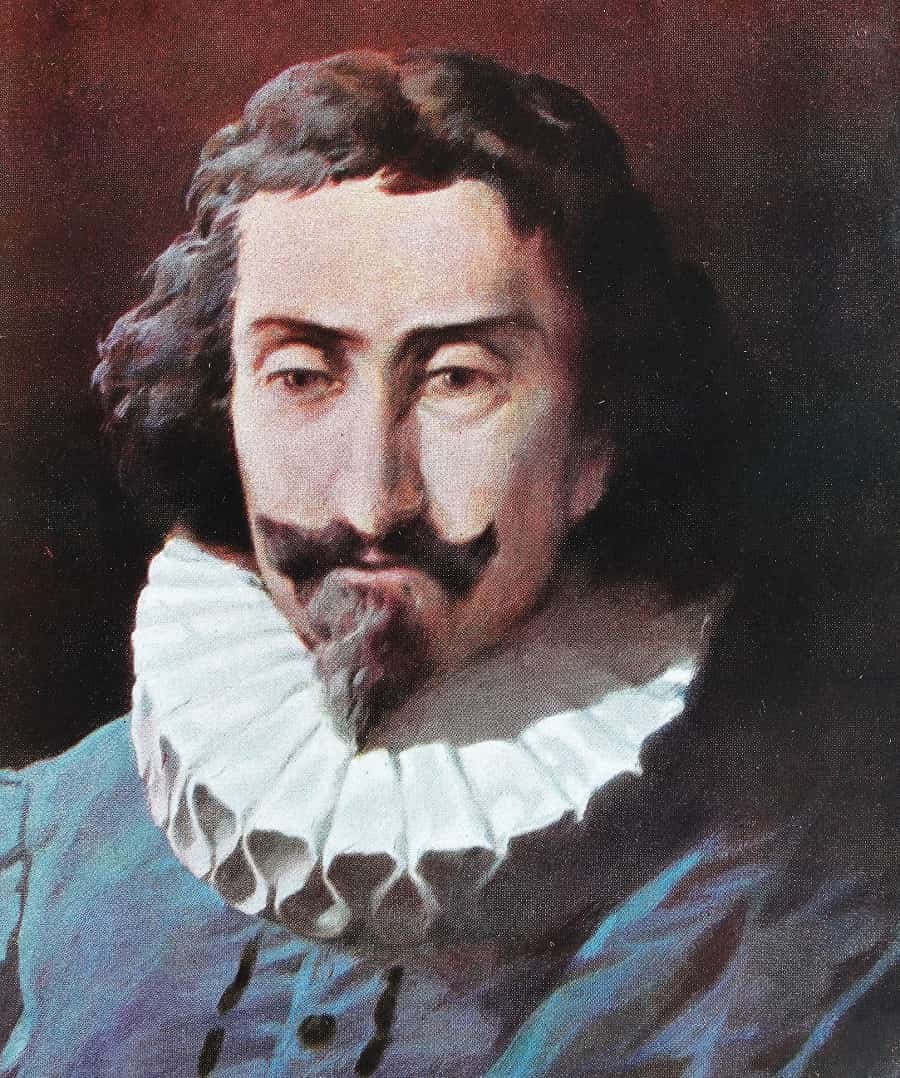 Miguel de Cervantes was a Spanish novelist, poet, playwright, and soldier. Cervantes was born in Alcalá de Henares, near Madrid, Spain, on September 29, 1547. He is often hailed as the father of modern literature. Cervantes authored the seminal work "Don Quixote," a literary masterpiece published in two parts in 1605 and 1615. This timeless novel is a profound exploration of human nature, idealism, and the power of storytelling.
"Don Quixote" follows the adventures of an aging, delusional knight, Don Quixote, and his loyal squire, Sancho Panza. The novel is a brilliant satire of the chivalric romances of Cervantes' time, blending humor, social commentary, and deep insight into its characters' psyches. In 1569, Cervantes also joined the Spanish army and fought in Italy for several years.
Cervantes' work has had an immeasurable impact on world literature, inspiring countless authors and artists. His storytelling prowess and exploration of the human condition continue to resonate, making him an enduring figure in the realm of letters. Miguel de Cervantes' legacy as a literary giant remains an integral part of Spain's cultural heritage and the global literary canon.
8) Francisco Franco (1892-1975)
Francisco Franco was a Spanish general and dictator who ruled Spain from 1939 to 1975. Francisco Franco was a polarizing and influential figure in Spanish history. As a prominent military leader and dictator, he played a central role in the 20th-century political landscape of Spain.
Franco rose to prominence during the Spanish Civil War (1936-1939) as the leader of the Nationalist faction, eventually emerging victorious. He then established a totalitarian regime that lasted until his death in 1975. During his rule, Spain experienced strict censorship, limited political freedoms, and a centralized authoritarian government.
Franco's regime also pursued a policy of autarky, isolating Spain from the global economy. While the early years of his rule were marked by economic stagnation and international isolation, Spain experienced a period of economic growth and development in the 1960s, partially due to foreign investment and tourism.
Franco's death in 1975 marked the end of his dictatorship and the beginning of Spain's transition to democracy. King Juan Carlos I played a pivotal role in guiding the country toward democracy, and Spain's new constitution was adopted in 1978, establishing a parliamentary monarchy.
9) Penélope Cruz (1974-present)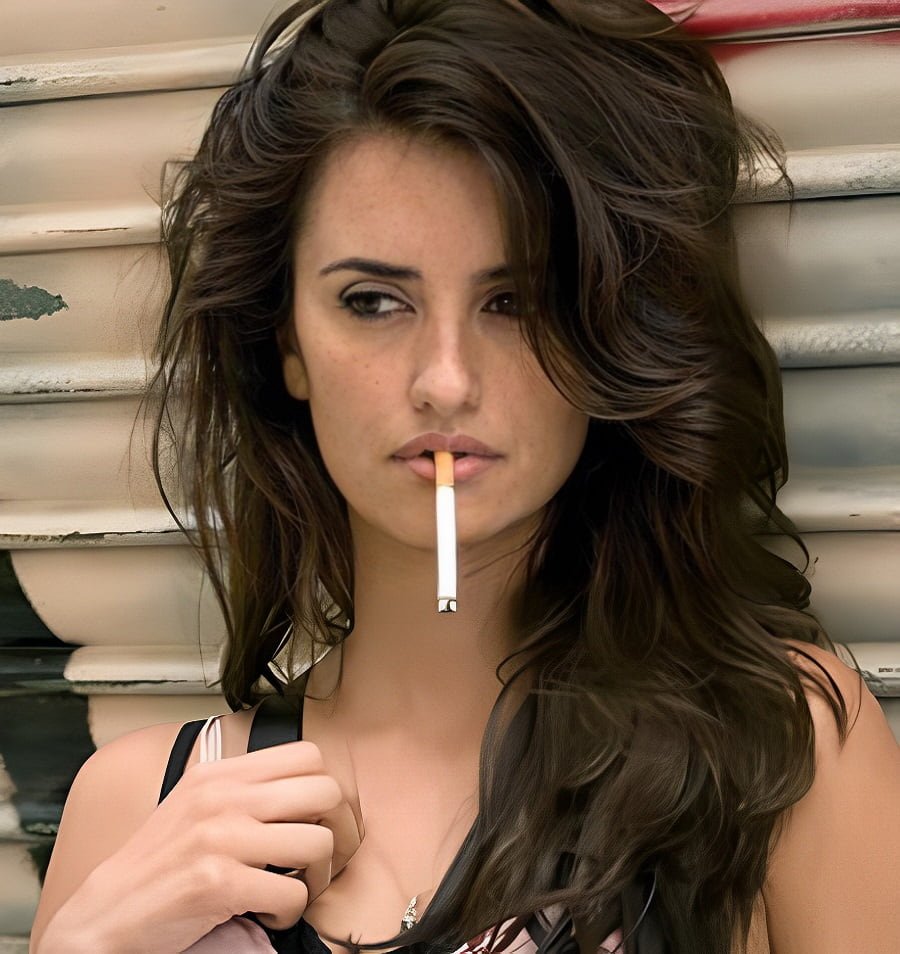 Penélope Cruz Sánchez (born April 28, 1974) is a famous actress and one of the most accomplished individuals among famous people from Spain. Cruz is married to the Spanish actor Javier Bardem. Her impressive talent and captivating performances have made her a prominent figure in both Spanish and international cinema.
Cruz's career has been marked by a wide range of roles, demonstrating her versatility as an actress. Her portrayal of complex characters in films like "Vicky Cristina Barcelona" and "Volver" garnered critical acclaim and numerous awards, including an Academy Award for Best Supporting Actress for her role in "Vicky Cristina Barcelona."
In 2001, Cruz made her Hollywood debut in the film Vanilla Sky. She went on to star in a number of successful Hollywood films, including Blow (2001), Captain Corelli's Mandolin (2001), and Sahara (2005).
Beyond her acting prowess, Penélope Cruz has collaborated with acclaimed directors and artists, solidifying her status as a respected figure in the film industry. Her dedication to her craft and her ability to convey depth and emotion on screen have earned her a devoted global fanbase. Cruz's contributions to the world of cinema have made her one of Spain's most celebrated cultural exports, and her legacy continues to inspire aspiring actors and filmmakers around the world.
10) Fernando Alonso (1981-present)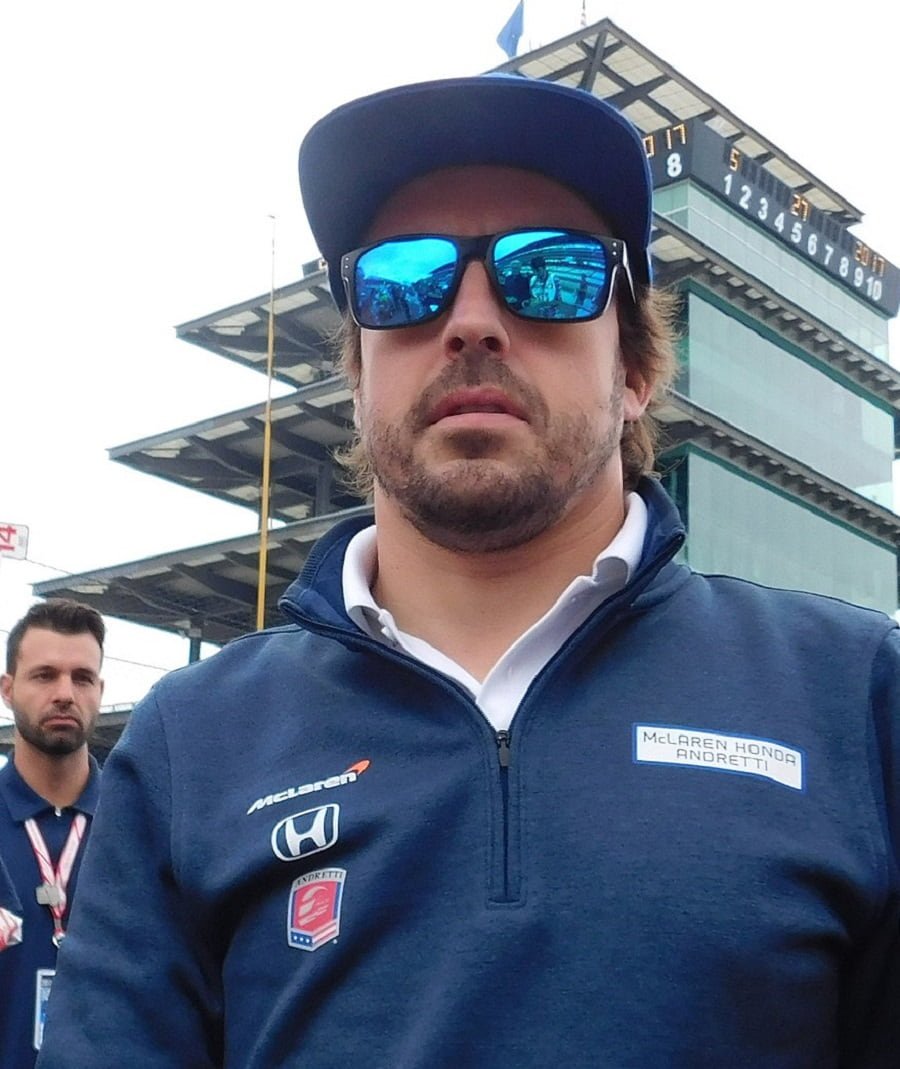 Fernando Alonso, was born in Oviedo, Asturias, Spain, on July 29, 1981, is a racing driver who currently competes for Aston Martin in Formula One. His exceptional skills, determination, and racing prowess have made him a household name in the world of Formula 1 racing. Alonso's Formula 1 career began in 2001, and he quickly made his mark, earning his first victory in 2003 with the Renault team.
He subsequently won back-to-back World Drivers' Championships in 2005 and 2006, becoming the youngest double world champion at that time. His time with Ferrari from 2010 to 2014 further solidified his status as a top-tier driver, although a World Championship eluded him during those years.
Beyond his achievements in Formula 1, Fernando Alonso has been recognized for his versatility as a racer. He has participated in various motorsport categories, including the prestigious 24 Hours of Le Mans, where he secured victory in 2018 and 2019, and the Indianapolis 500.
In 2021, Alonso made a return to Formula 1 with the Alpine team, showcasing his enduring passion for the sport and his commitment to excellence. Fernando Alonso's legacy in motorsport is defined not only by his championship wins and podium finishes but also by his resilience, adaptability, and unwavering dedication to his craft.
11) Pau Gasol (1980-present)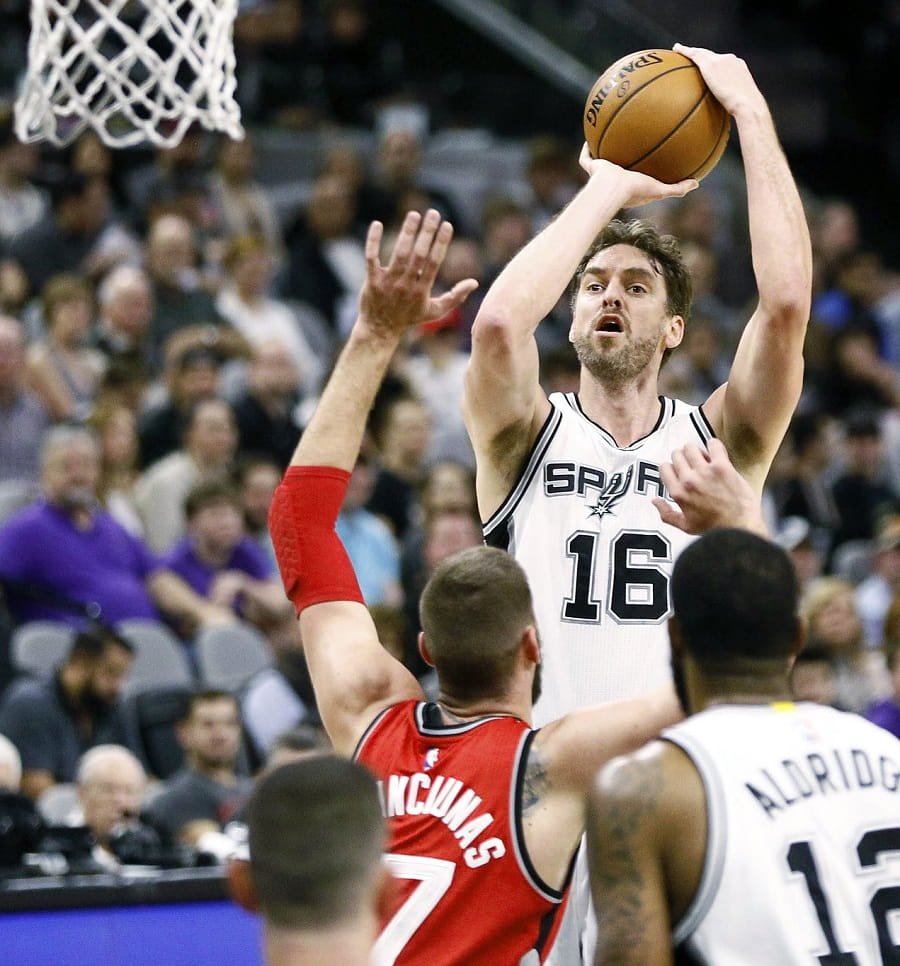 Pau Gasol Sáez (born 6 July 1980) is a former professional basketball player of Spain, who played 18 seasons in the National Basketball Association (NBA). He is one of the most accomplished and beloved basketball players to emerge from Spain, earning a prominent spot among Famous People from Spain. His outstanding skills, versatility, and sportsmanship have made him a global icon in the world of basketball.
Gasol's basketball journey began in Spain, where he played for FC Barcelona in 1998 before making a significant impact in the NBA. During his NBA career, he played for several teams, including the Memphis Grizzlies, Los Angeles Lakers, Chicago Bulls, San Antonio Spurs, and Milwaukee Bucks. Notably, Gasol was an integral part of the Los Angeles Lakers' championship-winning teams in 2009 and 2010.
Famous for his finesse, scoring ability, and exceptional passing skills as a big man, Gasol was a key figure in revolutionizing the role of power forwards and centers in the modern NBA. His basketball IQ and leadership qualities earned him the respect of teammates and opponents alike. He retired from the NBA in 2019.
12) Santiago Ramón y Cajal (1852-1934)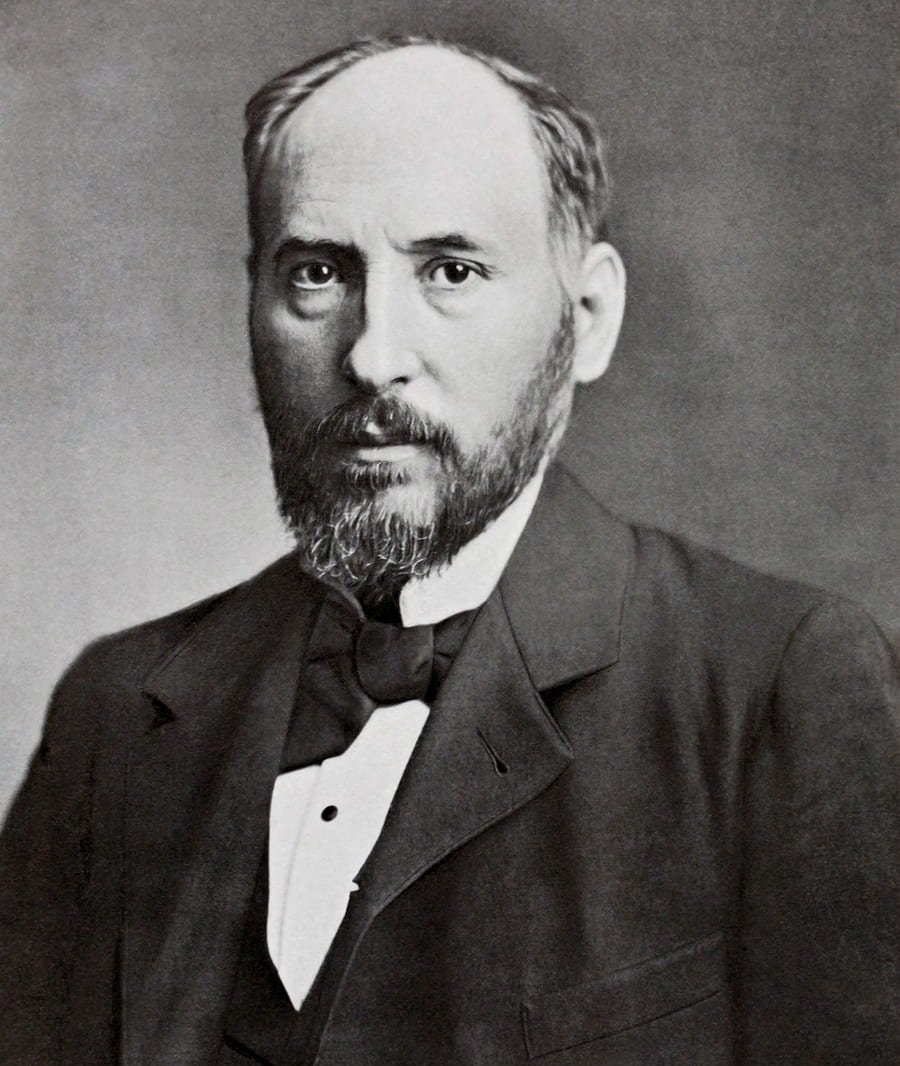 Santiago Ramón y Cajal, a Spanish neuroscientist, pathologist, and histologist specializing in neuroanatomy and the central nervous system. He stands as a towering figure among Famous People from Spain and is celebrated as the father of modern neuroscience. He began his medical studies at the University of Zaragoza in 1870 and received his doctorate in 1873. After serving as an army medic, he began his research career in Barcelona, where he studied the microscopic structure of the nervous system.
Ramón y Cajal's groundbreaking research focused on the structure of the nervous system, particularly the intricate network of neurons. Through meticulous microscopic studies, he uncovered the fundamental principles of neuron structure and function, including the concept of the neuron doctrine, which posits that the nervous system is composed of individual, discrete nerve cells.
In recognition of his groundbreaking contributions to neuroscience, Santiago Ramón y Cajal was awarded the Nobel Prize in Physiology or Medicine in 1906, becoming the first scientist from Spain to receive this prestigious honor. His enduring legacy continues to influence the fields of neuroscience, neurology, and psychology, shaping our understanding of the brain and nervous system.
13) Plácido Domingo (1941-present)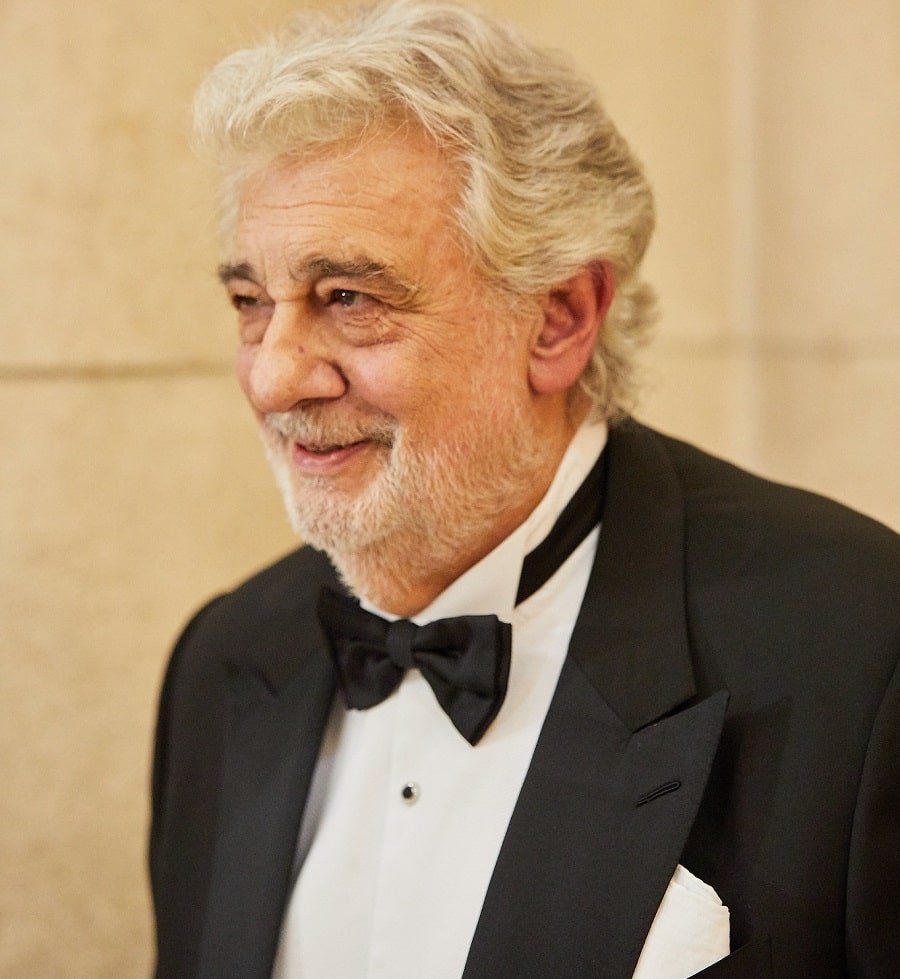 Plácido Domingo is a Spanish opera singer, conductor, and arts administrator. He is one of the most popular and successful opera singers in the world, and he has been praised for his versatility, his powerful voice, and his dramatic presence.
Domingo was born on January 21, 1941 in Madrid, Spain. His extraordinary vocal ability and versatile career have made an indelible mark on the opera and classical music worlds. He began learning music at an early age, and in 1959, he made his professional debut. He gained fame quickly, and in 1968 he made his New York City Opera debut.
Domingo's illustrious career spans decades and includes a vast repertoire of operatic roles, from Verdi to Wagner. His powerful and emotive voice, combined with his remarkable stage presence, have garnered him accolades and adoration from opera enthusiasts around the world.
Throughout his career, Domingo has received numerous awards and honors, including Grammy Awards and the Presidential Medal of Freedom, solidifying his place as one of the most celebrated figures in the world of classical music.
14) Javier Bardem (1969-present)
Javier Bardem, born in Las Palmas de Gran Canaria, Spain, on 1 March in 1969, is a highly acclaimed actor known for his versatility and captivating performances in both Spanish and international cinema. He is one of the most famous people from Spain and has left an indelible mark on the world of film.
Bardem's acting career began in Spain, where he gained recognition for his roles in films like "Jamón, Jamón" (1992) and "Before Night Falls." His portrayal of the Cuban poet and novelist Reinaldo Arenas in "Before Night Falls" (2000) earned him an Academy Award nomination, showcasing his remarkable talent and dedication to his craft. He has also appeared in the television series "Narcos" (2015-2017).
Bardem's international career took off in 2001, when he starred in the Hollywood film The Dancer Upstairs. He has since starred in a number of successful Hollywood films, including No Country for Old Men, Skyfall, Pirates of the Caribbean: Dead Men Tell No Tales (2017), and Being the Ricardos (2021).
One of his most iconic roles came in the Coen Brothers' "No Country for Old Men," (2007) where Bardem portrayed the enigmatic and ruthless hitman, Anton Chigurh. His performance earned him an Academy Award for Best Supporting Actor, solidifying his status as a global acting powerhouse.
15) Pablo Casals (1876-1973)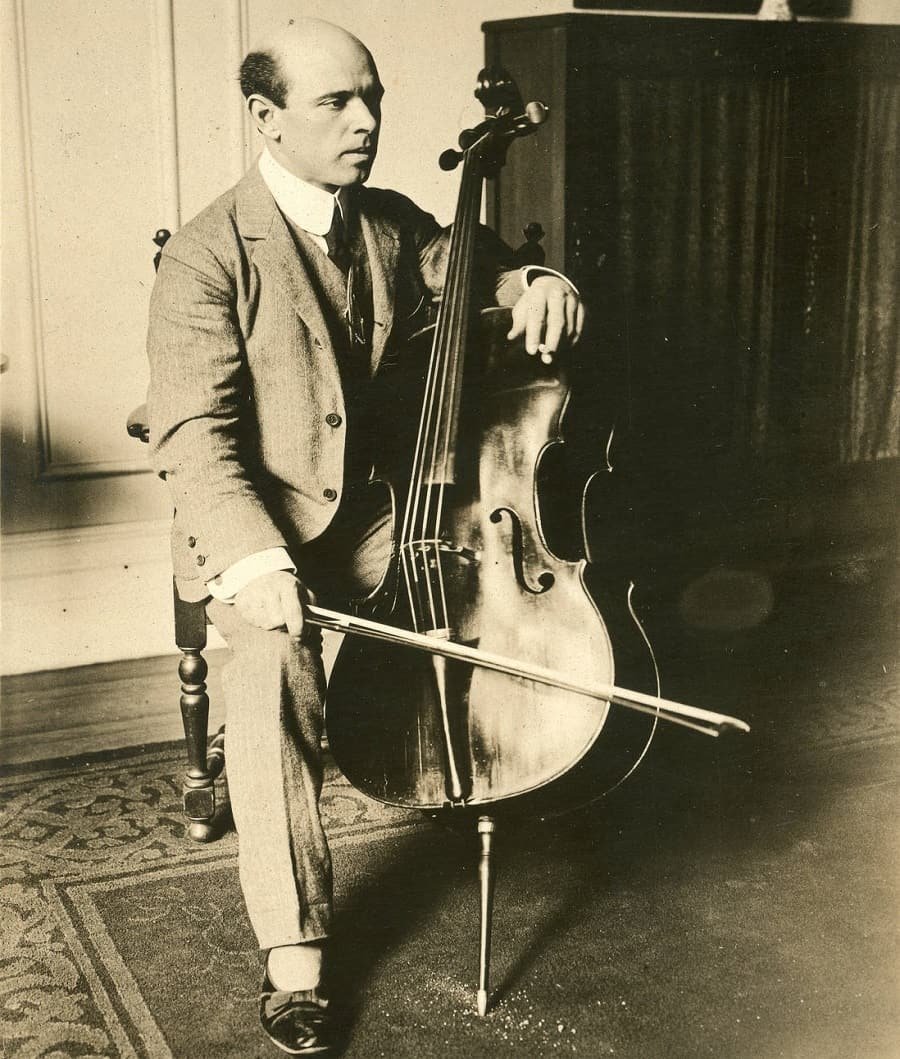 Pablo Casals, a world-famous cellist, conductor and composer. He is considered one of the greatest cellists of all time, and he was a major figure in the revival of early music. His profound contributions to classical music, particularly the cello repertoire, have solidified his status as one of the greatest musicians of the 20th century.
Casals was born in El Vendrell, Catalonia, Spain, on December 29, 1876. He began playing the cello at a young age, and he made his professional debut in 1891. He received his first cello lessons from his father and quickly rose to prominence as a virtuoso cellist. Casals' dedication to the craft of playing the cello and his innovative interpretations of classical compositions set him apart.
One of his most remarkable achievements was rediscovering and popularizing the suites for unaccompanied cello by Johann Sebastian Bach, known as the "Six Cello Suites." His recordings and performances of these suites remain iconic interpretations, influencing generations of cellists.
16) Pep Guardiola (1971-present)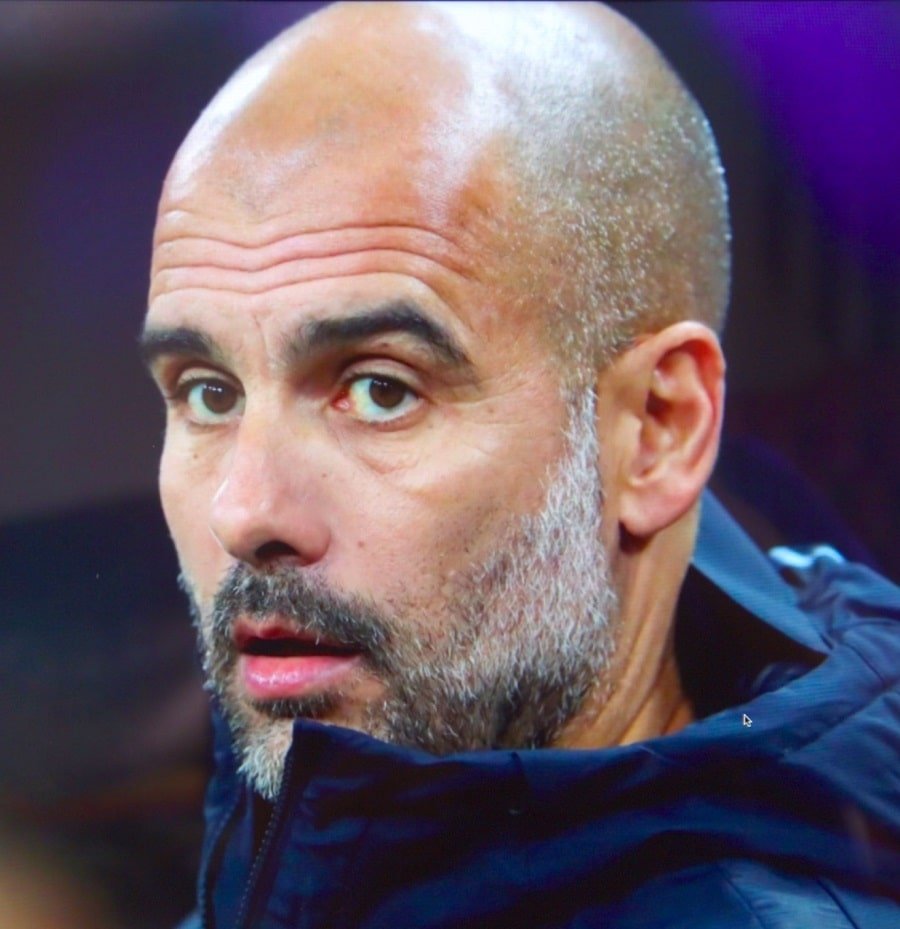 Pep Guardiola is a Spanish professional football manager and former player. He is considered one of the greatest football managers of all time. Guardiola's coaching philosophy, characterized by possession-based, attacking football and high pressing, has been widely emulated and admired.
Pep Guardiola, born on January 18, 1971 in Santpedor, Catalonia, Spain. He is celebrated as one of the most successful and influential football managers in the history of the sport. His innovative approach to coaching and his dedication to the beautiful game have left an enduring mark on football worldwide.
Guardiola's managerial journey began at Barcelona B in 2007, where he honed his coaching skills and developed a philosophy that would soon transform football. In 2008, he was appointed as the head coach of the senior team, FC Barcelona. Under his leadership, Barcelona experienced a golden era, characterized by their mesmerizing possession-based football.
Guardiola joined Manchester City in 2016. He has won four Premier League titles, four EFL Cups, and one FA Cup with the club. He has also led the club to the UEFA Champions League final in 2021. He has won 32 trophies in his career, including 10 league titles and two UEFA Champions League titles. He has also been named FIFA World Coach of the Year three times.
17) Andrés Iniesta (1984-present)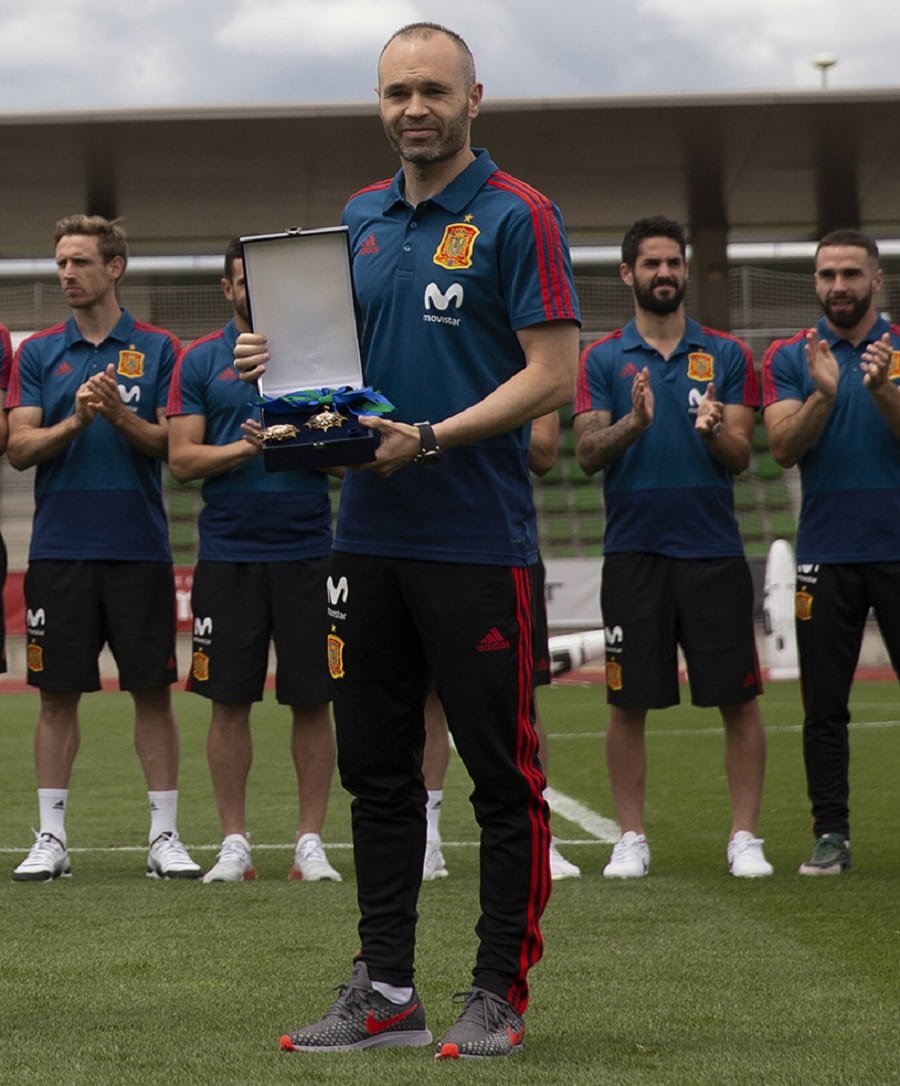 Andrés Iniesta Luján is a Spanish professional footballer who plays as a midfielder for UAE Pro League club Emirates. His exceptional skills, vision, and ability to orchestrate the midfield have earned him a place among the all-time greats of the sport. He is considered one of the greatest midfielders of all time, and he was lauded for his balance, ball control and agility in close spaces, combined with his skill, composure, and flair on the ball.
Andrés Iniesta Luján was born in Fuentealbilla, Spain, on May 11, 1984. Iniesta's illustrious club career was primarily spent with FC Barcelona, where he rose through the ranks of the youth academy, La Masia. He made his first-team debut in 2002 and quickly became an integral part of the squad. Alongside fellow legends like Xavi Hernandez and Lionel Messi, Iniesta played a pivotal role in Barcelona's dominance during the late 2000s, winning multiple La Liga titles and UEFA Champions League trophies.
One of his most iconic moments came during the 2010 FIFA World Cup final when he scored the winning goal for Spain, securing the nation's first-ever World Cup victory. His calm composure and impeccable technique in high-pressure situations were emblematic of his playing style.
He moved to the Japanese club Vissel Kobe in 2018. In 2019, he helped Kobe in winning the Emperor's Cup and the J1 League title. After his final game for Kobe against Hokkaido Consadole Sapporo in the J1 League championship, he announced his retirement from playing on July 1st, 2023.
Conclusion
The legacy of these 17 most famous people from Spain serves as a testament to the country's rich cultural and historical heritage. From the world of art and literature to science, sports, and politics, these individuals have made significant contributions that continue to inspire and influence generations. As we celebrate their achievements, we also celebrate the vibrant spirit of Spain and its enduring impact on the world.