Last Updated on 17th May 2023 by admin
Vincent Van Gogh is a famous painter known for his distinctive style, use of vibrant colours, and emotional depth in his works. He was born in the Netherlands in 1853, and even though he received not much attention when he was alive, he is now considered as a pioneer of modern painting. This article will take you on a tour through Vincent Van Gogh's life and work, studying his famous paintings and the stories behind them.
Early Life and Career of Vincent Van Gogh
He was born in a small Netherland's village where his father served as a minister. Poverty, familial strife, and social isolation all played a part in his difficult childhood. Although this was the case, he showed a talent for painting at an early age and only really began to seriously pursue it in his late 20s.
He moved to Brussels in 1880 to begin his studies under the guidance of painter Willem Roelofs after deciding to pursue a career in painting. He eventually moved to Paris in 1886, where he got familiar with the Impressionists' and Post-Impressionists' art, although his stay in Brussels was hampered by both personal and professional difficulties.
There is also a "Van Gogh Museum" in Amsterdam, Netherlands, dedicated to the life and work of Vincent van Gogh. Van Gogh's paintings, sketches, personal letters, and other artefacts are all housed at the museum, which also offers the largest collection of his work in the whole the world. The museum was founded to provide visitors with an in-depth understanding of Van Gogh's life and work and initially opened to the public in 1973.
The Style and Themes of Vincent Van Gogh's Art
Bright colours, powerful brushstrokes, and an especially deep emotional intensity for the time define Van Gogh's style. He painted landscapes, still lifes, and portraits often, but he was also well recognised for his depictions of social injustice, mental illness, and poverty.
"The Starry Night," one of most famous paintings in the world, shows the majestic beauty and intensity of the night sky over a little town in France. The picture is highlighted by swirling brushstrokes, brilliant colours, and a sense of movement that refer to the universe's constant motion.
Vincent Van Gogh is regarded as one of the most famous artists of all time. His paintings stand out because to his unique technique, vibrant colour choices, and bold brushstrokes. Van Gogh faced multiple emotional and professional obstacles during his life, yet his art has endured for almost a century. In this article, we will explore the 10 most famous paintings of Vincent Van Gogh and the stories behind them.
Top 10 Vincent Van Gogh Famous Paintings
The paintings of Vincent Van Gogh are famous for their expressive use of colour, brushwork, and passion. During his short and significant life, he created almost 2,000 works of art, including around 860 oil paintings and 1,100 drawings and sketches. He suffered with mental illness and poverty before taking his own life at the age of 37. Some of Vincent Van Gogh famous paintings are:
1) Starry Night (1889)
One of Vincent Van Gogh's most famous painting, Starry Night, may be considered as a Post-Impressionist masterpiece. It was painted in 1889 and depicts the view from Van Gogh's window in the Saint-Paul-de-Mausole asylum in Saint-Rémy-de-Provence, France.
The image shows a night sky filled with stars and a massive crescent moon. Bright blues and greens are used to paint the sky, and strong brushstrokes are used to convey motion and vitality. A tower from the oldest church stands against the pitch-black sky in the village below, which is shown in blue and green colours.
Van Gogh's distinctive style, which valued emotion and expression over reality, is evident in Starry Night. The picture is full with symbolism and importance, with the night sky standing in for the vastness of the earth and humanity's search for meaning in life. The bright yellow stars in the artwork stand in for hope and the promise of a new day, while the cypress tree on the picture's left side represents death and the afterlife.
2) The Potato Eaters (1885)
While he was residing in Nuenen, Netherlands, in 1885, Vincent Van Gogh created The Potato Eaters, one of his first masterpieces. Five peasants are shown in the gloomy, dark painting The Potato Eaters sitting around a table, eating a sparse meal of potatoes in the dim light of an oil lamp. To give the figures weight and longevity, they are painted with rich, earthy brushstrokes.
The image is a brutal depiction of rural poverty, and Van Gogh's use of dark, gloomy colours adds to the sense of loneliness and sadness. The faces and hands of the peasants are rough and weathered, and their clothing is stained and torn.
The Potato Eaters is a terrible portrait of poverty and sadness, but it is also a tribute to the courage and dignity of the human spirit. The artwork serves as a powerful reminder of the human cost of injustice and destitution since every brushstroke demonstrates Van Gogh's emotion for his subjects.
3) Sunflowers (1888)
Between 1888 and 1889, Vincent Van Gogh produced a group of paintings titled Sunflowers. The sunflower vases in the paintings each have their distinct layout and colour scheme. One group of five large paintings featuring a vase with twelve sunflowers on a yellow backdrop is the most famous of these paintings.
The bright, vivid colours and dramatic brushstrokes of Sunflowers' paintings make them stand out. The impact of Van Gogh's use of thick paint layers and strong shapes to create depth and texture in his paintings are dramatic and beautiful.
The Sunflowers series by Van Gogh is recognised as one of his finest works, and the paintings continue to rank among his most famous and beloved works. They have been recreated many times in prints, posters, and other forms of media, and their celebration of the beauty and vigour of nature never fails to inspire and enthral viewers worldwide.
4) The Starry Night Over the Rhône (1888)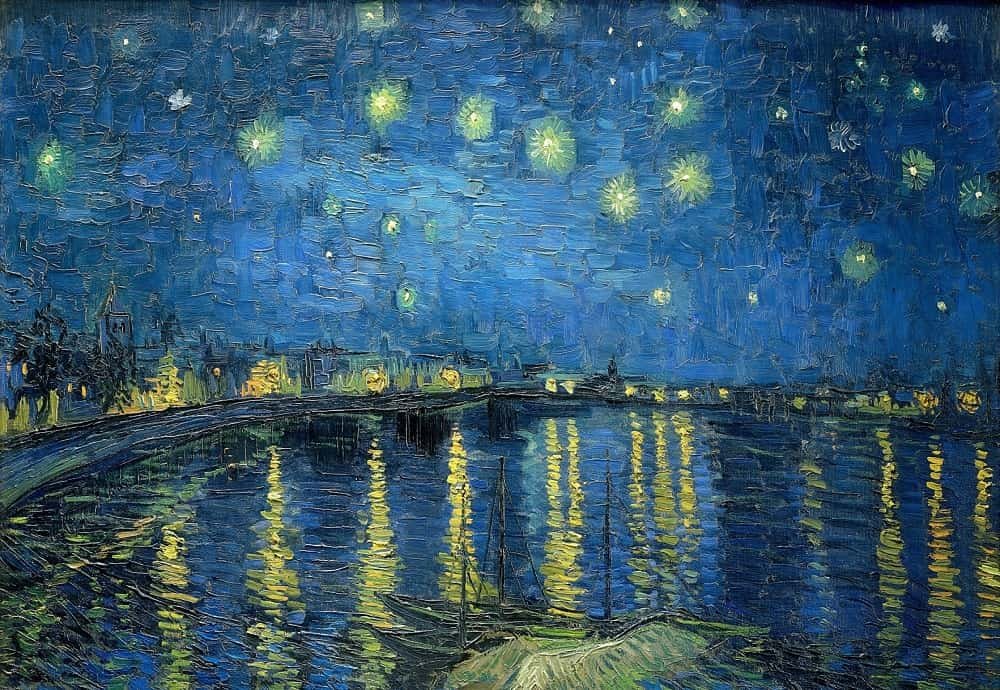 The Starry Night Over the Rhône, a stunning and iconic painting by Vincent Van Gogh, was created in 1888. It shows a stunning and serene nighttime scene along the banks of the Rhône River in Arles, France. The picture shows two couples walking along the banks of a river while the moon and stars are reflected on the water.
The sky, which is filled with stars and the bright illumination of the moon, is given movement and energy by Van Gogh's unique focused and swirling brushstrokes. The colours and patterns of the stars and the moon are perfectly mirrored in the still river, adding to the beauty of the water reflections.
One of Van Gogh's most stunning emotionally charged paintings, The Starry Night around the Rhône is still a well-known masterwork that captures the attention of art lovers all around the world. People that appreciate the beauty of nature love it for its dreamy and romantic atmosphere, and viewers are still inspired and fascinated by it today.
5) Irises (1889)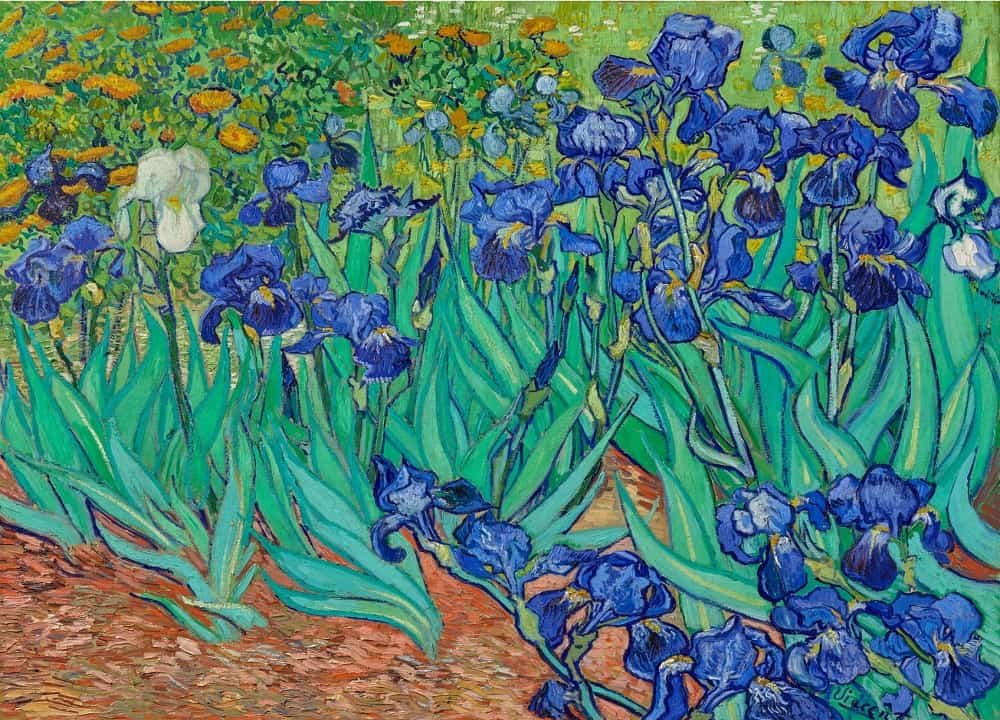 Vincent Van Gogh created the beautiful painting Irises in 1889 when he was a patient at the Saint-Paul-de-Mausole facility in Saint-Rémy-de-Provence, France. On a vibrant green background, the image shows a bed of dazzling blue, purple, and yellow irises.
In Irises, Van Gogh's use of colour and texture is particularly impressive, with wide, expressive brushstrokes giving the painting a sense of depth and movement. An overall feeling of excitement and eagerness is produced by the flowers, which seem to swing and move in the air.
Irises is still regarded as one of Van Gogh's best works of art and is regarded as a classic and valuable piece of literature. It serves as evidence of art's power to capture and represent the beauty and energy of the natural world. Its vibrant colours and expressive style continue to inspire and amaze audiences across the world.
6) The Bedroom (1888)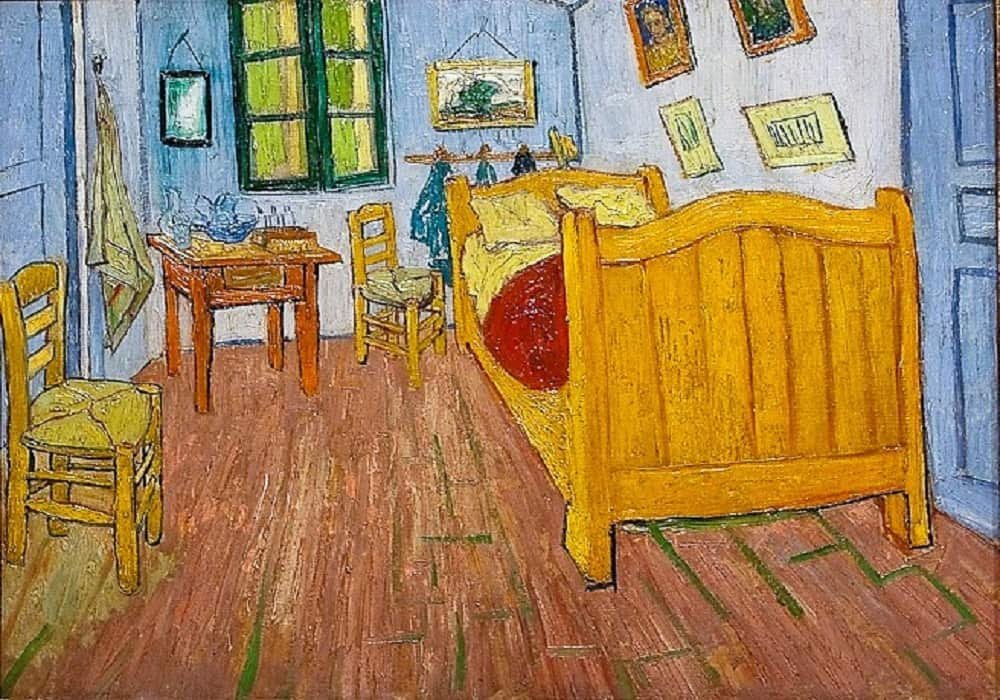 While living at the Yellow House in Arles, France, Vincent Van Gogh created the three paintings that make up the Bedroom series in 1888. The paintings offer an intriguing glimpse into the private life of the artist and depict Van Gogh's own bedroom, which he personally planned and decorated.
The vibrant colours and powerful geometric shapes used in the Bedroom paintings set them distinct. Van Gogh used contrasting hues to convey depth and perspective in the little space, and the overall effect is one of excitement and energy.
The Bedroom, described for its private, personal subject matter and magnificent, modern way, has grown to be one of Van Gogh's most famous and appreciated paintings. The works are a testament to Van Gogh's unique and avant-garde approach to painting, and their brilliant beauty continues to awe and draw followers from all over the world.
7) Wheatfield with Crows (1890)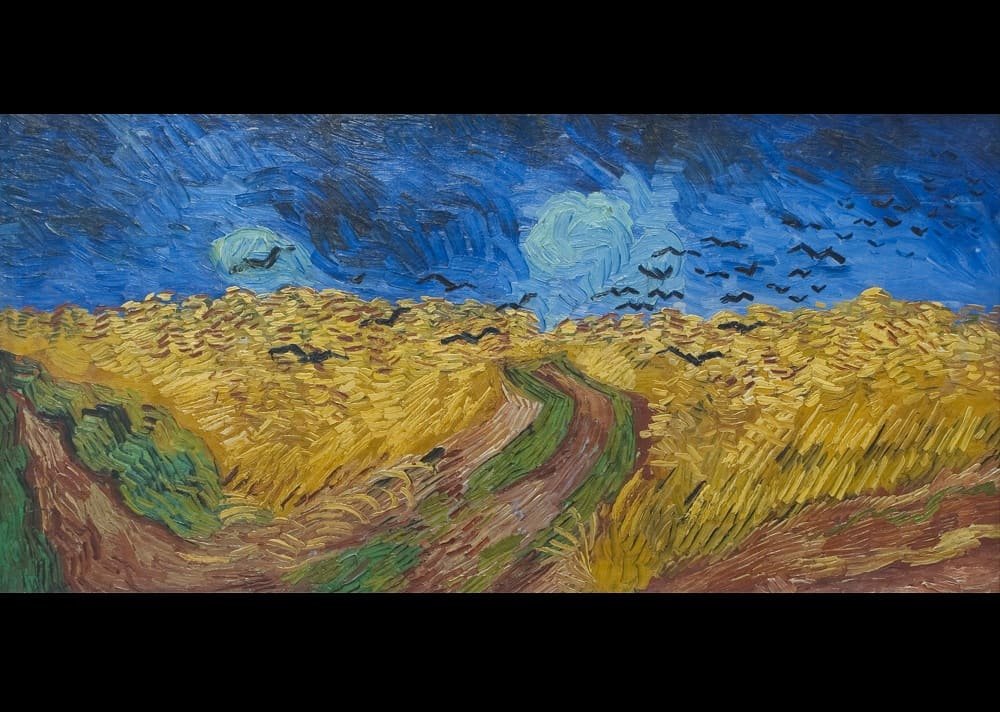 One of Vincent Van Gogh's final and most famous works, Wheatfield with Crows, was finished only weeks before he passed away in 1890. The image shows a vast, wide wheat field with a dramatic, gloomy sky filled with crows flying overhead. The image demonstrates Van Gogh's distinctive use of colour and texture, with strong, swirling brushstrokes giving an overall feeling of movement and energy throughout the composition.
With shades of blue, grey, and green mixing into a dramatic and tumultuous swirl, the sky is exceptionally stunning. Some people believe that Wheatfield with Crows is a reflection of Van Gogh's own mental and emotional state in the final months of his life.
The wheat field represents the beauty and energy of life, but the crows, which are typically connected with death and the hereafter, provide the image a sense of sadness and shade. Wheatfield with Crows is a bold and emotive work of art that continues to inspire and interest viewers with its genuine passion and potent symbolism despite its gloomy and threatening atmosphere.
8) Almond Blossom (1890)
In 1890, Vincent Van Gogh created the Almond Blossom series as a gift for Vincent Willem, the newborn son of his brother Theo. Beautiful white and pink almond tree blooms against a blue sky may be seen in the paintings. The delicate and exquisite brushwork in the paintings of almond blossoms perfectly reflects the delicate softness of the petals.
Van Gogh also makes excellent use of colour; the contrasting blues and pinks give the painting a sense of balance and harmony. Known and admired for their serene and soothing beauty, Van Gogh's paintings of almond blossoms are among his most famous and cherished creations.
They are an especially appropriate gift for a newborn infant since they are generally seen as a symbol of hope, rebirth, and the beauty of new life. Van Gogh's Almond Blossom paintings' enduring appeal and global popularity serve as a monument to his original and creative approach to art by inspiring and astounded visitors even now.
9) The Yellow House (1888)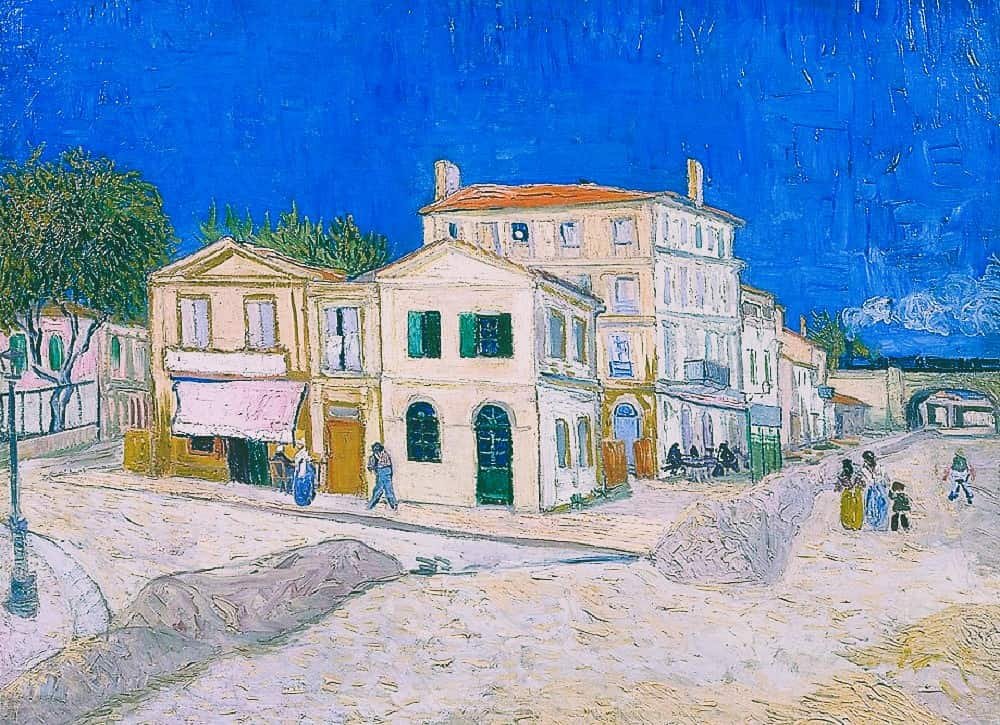 Vincent Van Gogh painted The Yellow House in 1888, and it depicts the artist's own house in Arles, France. The image shows the building's easy to understand conventional face, with its dazzling yellow front and red-tiled roof set against a clear blue sky.
Van Gogh rented the Yellow House in 1888 with the goal of creating an artists' colony where he and other painters might reside and collaborate. He decorated the interior of the house with his own artwork, giving in a vibrant and colourful living space that reflected his own artistic vision.
The Yellow House painting is famous for its expressive, artistic style, vibrant use of colour, and amazing skill and delicacy in capturing the richness and brightness of the natural world. It is regarded as one of Van Gogh's most popular and cherished pieces, praised for its evocative portrayal of the artist's own home and the straightforward beauty of everyday life.
10) Cafe Terrace at Night (1888)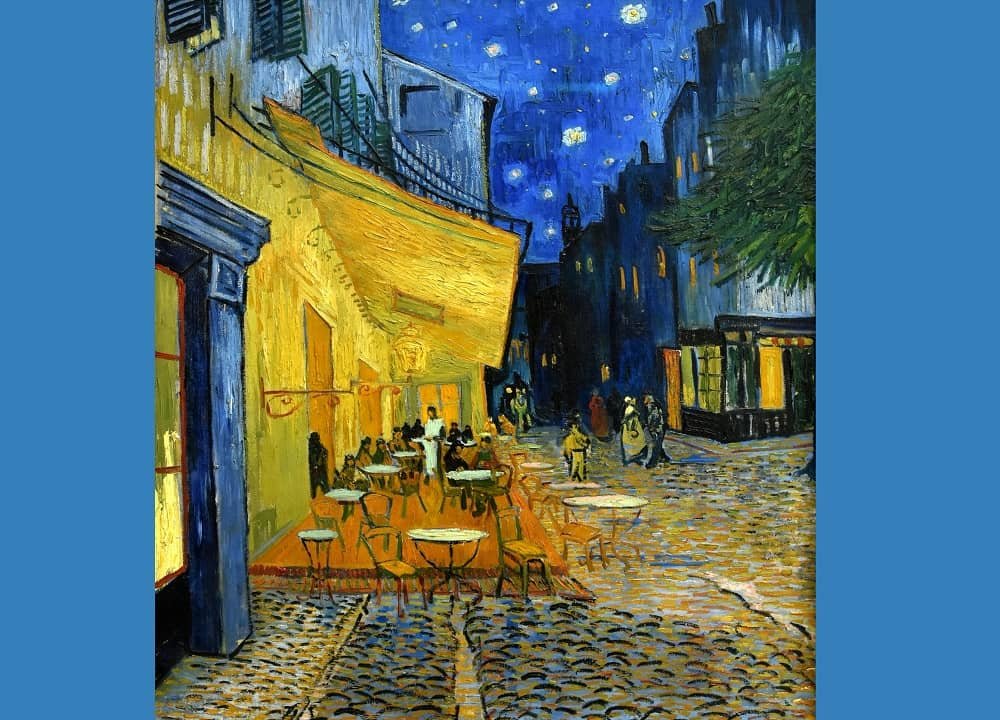 Vincent Van Gogh painted Cafe Terrace at Night in 1888, which shows a packed outdoor cafe in the French town of Arles. The picture is famous for its vibrant colour choices and dynamic composition, which masterfully and creatively depict the brightness and liveliness of the landscape.
The artwork shows a group of people gathered at a café, their faces and the around structures lit by the comforting glow of gas lamps. The painting is given a romantic and enigmatic atmosphere by the starry sky overhead, and the composition's depth and richness are further enhanced by the beautiful details in the people and structures.
One of Van Gogh's most famous and admired works, Cafe Terrace at Night is recognised for its dramatic setting and vibrant sense of life. It pays homage to Van Gogh's remarkable talent as a painter and his unique and innovative approach to painting by portraying the spirit of the late nineteenth-century European outdoor café culture.
In conclusion, Vincent Van Gogh was a great artist who created some of the most famous paintings in history. His works, including Starry Night and Cafe Terrace at Night, continue to move and attract viewers worldwide. His distinctive brushstrokes, colour scheme, and style have had a lasting impression on the art world, and his creations continue to carry on his legacy.
The paintings of Vincent Van Gogh continue to enthral and inspire people all around the world. His unique aesthetic, bold colour choices, and expressive brushstrokes have had a lasting impression on the art world. Despite his difficulties and difficulties throughout his lifetime, Van Gogh's legacy continues via his paintings.