Last Updated on 18th July 2023 by admin
Welcome to Lighthouse Point in Florida, a picturesque town that captivates visitors with its natural beauty, rich history, and small-town charm. This hidden gem, which can be found nestled along Florida's southeast coast, is a wonderful getaway for anybody who enjoys the beach, outdoor activities and more. From its iconic lighthouse to its pristine beaches and welcoming community, Lighthouse Point has something for everyone.
In this comprehensive guide, we'll take you on a journey to explore the beautiful attractions, breathtaking sights, and fascinating history that make Lighthouse Point in Florida a must-visit destination.
Lighthouse Point: A Coastal Paradise
Welcome to Lighthouse Point, a lovely town on Florida's southern coast. Lighthouse Point is a true coastal paradise that will captivate your senses and leave you wishing for more. It is famous for its breathtaking coastal scenery, rich history, and small-town charm. Join us as we explore this coastal gem's attraction and discover why it stands out as an unique haven for beach lovers, outdoor enthusiasts, and people looking for a peaceful vacation from the stress of daily life.
Discovering the Rich History of Lighthouse Point
Lighthouse Point in Florida is a town steeped in history, offering a glimpse into its fascinating past and the evolution of this coastal community. If you're interested in delving into the town's heritage, here are some key aspects of its rich history to explore:
1. Early Settlement and Fishing Heritage
Lighthouse Point's history dates back to the early 20th century when it was primarily a fishing village. The town derived its name from the Hillsboro Inlet Lighthouse, which has stood as a guiding beacon since 1907. Explore the roots of the community and learn about the early settlers who made a living from the sea, contributing to the town's fishing heritage.
2. Hillsboro Inlet Lighthouse: Guiding Ships for Over a Century
The iconic Hillsboro Inlet Lighthouse is a centerpiece of Lighthouse Point's history. Discover the captivating story behind this historic structure that has guided ships along the coast for over a century. Take a guided tour of this famous lighthouse and learn about its construction, operation, and the dedicated keepers who ensured the safety of seafarers.
3. Maritime Traditions and Nautical Culture
The town's maritime traditions and nautical culture are deeply ingrained in its history. Explore the seafaring traditions, stories of local fishermen, and the importance of the Intracoastal Waterway in shaping the town's identity. Visit the Lighthouse Point Historical Society Museum to view artifacts, photographs, and documents that showcase the maritime heritage of the community.
4. Growth and Development
Over the years, Lighthouse Point in Florida has experienced significant growth and development while maintaining its natural beauty and small-town charm. Discover the milestones and transformations that have shaped the town into the vibrant community it is today. Learn about the visionaries, architects, and developers who contributed to the town's expansion.
5. Preservation of Natural Beauty
Lighthouse Point takes pride in preserving its natural beauty and coastal ecosystem. Explore the town's commitment to environmental conservation and learn about the initiatives taken to protect the local flora, fauna, and marine life. Discover how Lighthouse Point balances development with sustainability, ensuring the preservation of its unique natural resources.
By exploring the rich history of Lighthouse Point, you can gain a deeper appreciation for the town's heritage, its connection to the sea, and the efforts to preserve its unique character. Immerse yourself in the stories of the past, visit historical sites, and engage with the local community to truly discover the captivating history that shaped Lighthouse Point into the coastal gem it is today.
Beautiful Beaches in Lighthouse Point
Lighthouse Point is home to unspoiled and beautiful beaches that offer a serene and picturesque coastal experience. If you're seeking sun, sand, and serenity, these pristine stretches of shoreline are the perfect destinations. Here are some of the famous beaches in Lighthouse Point, Florida that you should explore:
1. Sullivan Park Beach: Tranquility by the Atlantic
Sullivan Park Beach is a hidden gem where you can bask in tranquility by the Atlantic Ocean. This beautiful beach provides direct access to the pristine shoreline, inviting you to relax on the soft sand, soak up the sun, and enjoy the rhythmic sounds of the waves. With its calm and uncrowded atmosphere, it's an ideal spot for a peaceful beach day.
2. Deerfield Beach: Serenity Amidst Natural Beauty
Located near Lighthouse Point, Deerfield Beach is known for its natural beauty and tranquil ambiance. This untouched stretch of beach offers a peaceful haven from the everyday noise. Take a leisurely walk along the beach, collect seashells, or simply sit back and appreciate the stunning coastal vistas.
3. Pompano Beach: Pristine Sands and Azure Waters
Just a short drive from Lighthouse Point, Pompano Beach boasts unspoiled stretches of pristine sands and azure waters. The uncrowded beaches provide a sense of tranquility and the perfect backdrop for relaxation. Whether you want to sunbathe, take a refreshing dip in the sea, or enjoy a leisurely beach walk, Pompano Beach offers a serene coastal retreat.
4. Lauderdale-By-The-Sea: Charming and Undisturbed
Lauderdale-By-The-Sea, a neighboring coastal town, is famous for its charming and undisturbed beaches. The unspoiled shoreline invites you to unwind, build sandcastles, or simply take in the beauty of the surroundings. Enjoy the laid-back atmosphere, explore the nearby coral reefs for snorkeling, or indulge in beachside dining at one of the quaint restaurants.
These beautiful beaches in and around Lighthouse Point offer a tranquil and authentic coastal experience. These pristine stretches of sand offer the ideal backdrop whether you're looking for peacefully, privacy, or the ability to fully appreciate the surrounding natural beauties. Enjoy the sun, sand, and peace that these unspoiled beaches have to offer by taking a vacation from the busy world.
Attractions and Landmarks in Lighthouse Point
Lighthouse Point in Florida is famous for its captivating attractions and landmarks that showcase the town's unique charm and rich history. From iconic lighthouses to vibrant marinas, there's much to explore and appreciate. Here are some of the famous attractions and landmarks in Lighthouse Point:
1. Hillsboro Inlet Lighthouse: Guiding Ships Since 1907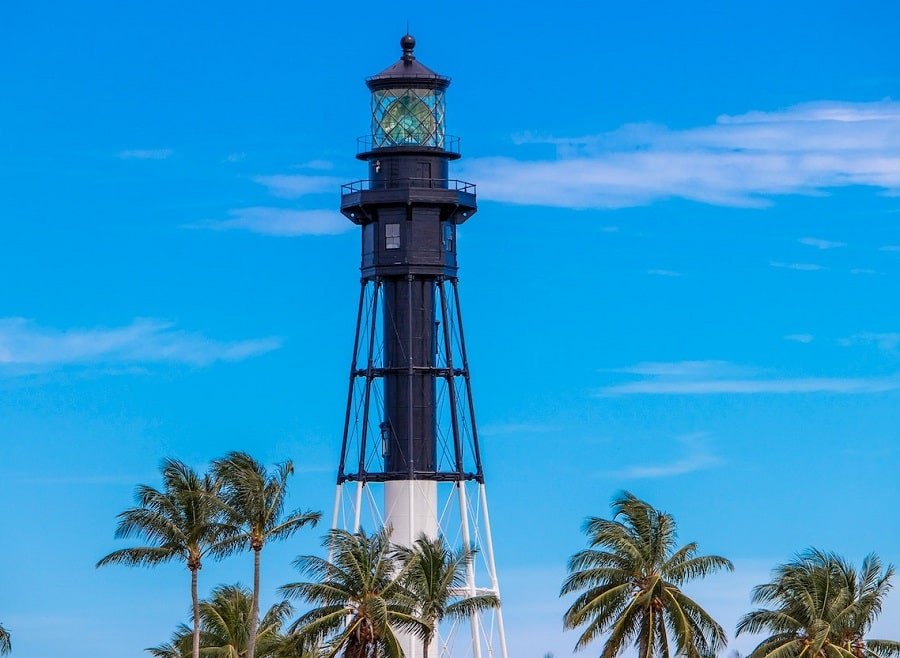 The Hillsboro Inlet Lighthouse stands tall as a symbol of Lighthouse Point's maritime heritage. This historic lighthouse, with its distinctive red top, has been guiding ships along the coast since 1907. Take a guided tour to learn about its fascinating history, climb up the tower, and enjoy panoramic views of the coastline.
2. Lighthouse Point Yacht Club: A Hub of Maritime Activity
The Lighthouse Point Yacht Club is a prominent landmark and a hub of maritime activity. This exclusive club offers a vibrant social scene, providing boating facilities, yacht charters, and waterfront dining. Enjoy the picturesque views of the marina, indulge in delicious cuisine, and soak up the nautical ambiance.
3. Dan Witt Park: Scenic Beauty and Recreational Delights
Dan Witt Park is a serene green space that offers stunning views of the Intracoastal Waterway. Take a leisurely stroll along the coastline, enjoy a picnic under the trees, or just unwind and take in the peace and quiet of the area. The park also features playgrounds and sports facilities, making it an ideal spot for family outings and outdoor recreation.
4. Sullivan Park: Beach Access and Waterfront Enjoyment
Beach lovers and outdoor enthusiasts frequently visit Sullivan Park. It's the ideal place to relax on the sand, swim in the cool waves, or enjoy a picnic by the shore because it has direct access to the beach. Enjoy a stroll down the promenade while taking in the breathtaking views of the Atlantic Ocean and the coastal breeze.
5. Nauti Dawg Marina Café: Waterside Dining with a View
Located on the Intracoastal Waterway, the Nauti Dawg Marina Café offers a delightful dining experience with panoramic water views. Enjoy fresh seafood dishes, tasty burgers, and refreshing drinks while watching boats pass by. The laid-back atmosphere and scenic backdrop make it a favorite spot among locals and visitors alike.
6. Frank McDonough Park: Sports and Recreation Hub
Frank McDonough Park is a vibrant recreational area that caters to sports enthusiasts. With basketball courts, tennis courts, and a baseball field, it's the perfect place to engage in friendly competitions and outdoor activities. The park also features playgrounds and picnic areas, providing fun for the whole family.
7. Historical Society Museum: Preserving Local Heritage
Visit the Lighthouse Point Historical Society Museum to delve into the town's past and learn about its evolution over time. Discover artifacts, photographs, and documents that highlight the history and cultural heritage of Lighthouse Point. Gain insight into the town's early days as a fishing village and its transformation into the charming community it is today.
These attractions and landmarks in Lighthouse Point in Florida offer a glimpse into the town's captivating history, scenic beauty, and vibrant coastal lifestyle. Explore these treasures, soak up the atmosphere, and create lasting memories during your visit to this enchanting coastal destination.
Outdoor Activities in Lighthouse Point
Lighthouse Point in Florida offers an abundance of outdoor activities for visitors to immerse themselves in the breathtaking natural beauty of the area. From fishing adventures to tranquil walks in scenic parks, there is something for everyone to enjoy.
1. Fishing: Cast Your Line and Reel in the Fun
Discover the joy of fishing in Lighthouse Point. Whether you're an experienced angler or a beginner, there are excellent fishing spots to test your skills. Head to the local fishing pier or embark on a fishing charter to explore deeper waters. Catch a variety of fish species and experience the thrill of landing your prized catch.
2. Parks and Green Spaces: Serenity in Nature's Embrace
Escape into nature's embrace as you explore the charming parks and green spaces of Lighthouse Point. Take a leisurely stroll along scenic walking trails, breathe in the fresh air, and revel in the tranquil surroundings. These picturesque settings offer stunning water views and provide the perfect backdrop for picnics and relaxation.
3. Water Sports: Dive into Aquatic Adventures
Dive into a world of aquatic adventures in Lighthouse Point. Engage in thrilling water sports such as paddleboarding, kayaking, jet skiing, and boating. Glide along the calm waters, feel the invigorating sea breeze, and soak up the warm sunshine as you embrace the exhilaration of these exciting activities.
4. Birdwatching: Discover Avian Treasures
Lighthouse Point is a paradise for birdwatching enthusiasts. Explore the wetlands and coastal areas, where you can spot a rich variety of avian species. Marvel at the graceful flight of pelicans, observe herons wading in the water, and delight in the vibrant array of coastal birds that call this area home.
Lighthouse Point offers a playground of outdoor activities, inviting visitors to connect with nature, embark on thrilling adventures, and create lasting memories. Whether you're casting your line, meandering through parks, enjoying water sports, or discovering the wonders of birdwatching, the opportunities for outdoor exploration are endless in this coastal paradise.
Best Time to Visit Lighthouse Point
It's important to plan your trip to Lighthouse Point in Florida at the best time of year to get the most out of your time in this coastal haven. Here is a tip to assist you choose when to pack your luggage and go out on your journey because the town's environment changes throughout the year.
1. Winter (December-February): Mild and Pleasant
Winter in Lighthouse Point brings mild temperatures and pleasant weather, making it an ideal time to visit. With average temperatures ranging from the mid-60s to the low 70s Fahrenheit (around 18-23 degrees Celsius), you can enjoy outdoor activities comfortably. Pack a light jacket or sweater for cooler evenings and embrace the tranquility of the town without the bustling crowds.
2. Spring (March-May): Blossoming Beauty
Springtime in Lighthouse Point is a delight for nature enthusiasts. The temperatures gradually rise, ranging from the mid-70s to the low 80s Fahrenheit (around 23-28 degrees Celsius). The town comes alive with vibrant colors as flowers bloom and lush greenery thrives. It's the perfect season for exploring parks, gardens, and enjoying the coastal beauty that Lighthouse Point has to offer.
3. Summer (June-August): Sunny and Vibrant
Summers in Lighthouse Point bring warm and sunny days, with temperatures ranging from the high 80s to the low 90s Fahrenheit (around 31-33 degrees Celsius). The town buzzes with energy as visitors flock to the beaches and enjoy various water activities. Remember to pack your sunscreen, swimwear, and beach essentials to fully embrace the summer vibes.
4. Fall (September-November): Mild and Tranquil
Fall in Lighthouse Point offers a pleasant transition from the summer heat to milder temperatures. Average temperatures range from the high 70s to the low 80s Fahrenheit (around 25-28 degrees Celsius). It's a quieter time to visit, allowing you to enjoy the town's attractions and outdoor activities with fewer crowds. The fall foliage adds a touch of charm to the coastal landscapes.
Overall, Lighthouse Point can be enjoyed year-round, but the winter and spring months provide the most comfortable weather for outdoor exploration. Consider your preferences for activities and crowd levels when choosing the best time to visit this coastal paradise. Whatever season you choose, Lighthouse Point promises a memorable experience and the opportunity to create cherished memories.
Accommodation Options in Lighthouse Point
You may choose from a variety of accommodation alternatives to suit your interests and guarantee a comfortable stay while making travel arrangements to Lighthouse Point in Florida. The town provides something for everyone, whether you're searching for luxury or a cosy refuge. Some of the various options for accommodation are listed below:
1. Beachfront Resorts: Indulge in Coastal Luxury
Lighthouse Point boasts beachfront resorts that offer a luxurious and pampering experience. Enjoy stunning ocean views, upscale amenities, and world-class service. These resorts often feature private beach access, pools, spas, and on-site dining options. Treat yourself to a relaxing and indulgent stay in one of these exquisite resorts.
2. Boutique Hotels: Quaint and Charming
For those seeking a more intimate and unique experience, boutique hotels in Lighthouse Point provide a charming ambiance and personalized service. These smaller-scale establishments offer stylish rooms, often with coastal-themed decor, and a cozy atmosphere. Immerse yourself in the town's local charm while enjoying the comforts and attention to detail that boutique hotels provide.
3. Vacation Rentals: Your Home Away From Home
Vacation rentals are a popular choice in Lighthouse Point, allowing visitors to have their own private space and enjoy the comforts of a home away from home. Choose from a variety of rental options, such as beachfront condos, spacious villas, or cozy cottages. Vacation rentals provide the flexibility to cook your meals, relax in living areas, and enjoy the convenience of a fully equipped space.
4. Bed and Breakfasts: Quaint and Cozy Retreats
Experience warm hospitality and a homely atmosphere in Lighthouse Point's bed and breakfast establishments. These charming accommodations offer comfortable rooms, homemade breakfast options, and personalized service from friendly hosts. Enjoy a cozy retreat and immerse yourself in the town's friendly community.
5. Extended Stay Options: Embrace a Longer Getaway
If you're planning an extended stay in Lighthouse Point, you'll find options tailored to meet your needs. Extended stay hotels and apartment rentals provide amenities such as kitchenettes, laundry facilities, and spacious living areas. Enjoy the convenience and flexibility of a longer-term stay in these accommodations.
When choosing your accommodation in Lighthouse Point, consider your preferences for location, amenities, and budget. Whether you're looking for a luxurious beachfront experience, a quaint retreat, or a home-like setting, the town offers a variety of options to ensure a memorable and comfortable stay during your visit.
Local Wildlife in Lighthouse Point
Lighthouse Point in Florida is not only a coastal paradise for beachgoers but also a haven for wildlife enthusiasts. The town's diverse ecosystem provides a home for a wide range of fascinating creatures. Explore the natural surroundings and keep an eye out for the captivating local wildlife that adds to the town's charm. Here are some of the remarkable species you may encounter:
1. Marine Life: Dolphins, Manatees, and More
Lighthouse Point's coastal waters are teeming with marine life. Look out for playful dolphins as they gracefully leap and swim alongside boats. Keep an eye on the calm waters for gentle manatees, often spotted grazing on seagrass beds. These gentle giants are a joy to observe in their natural habitat. Snorkeling and scuba diving in the area offer opportunities to encounter vibrant tropical fish, colorful corals, and even sea turtles.
2. Coastal Birds: Majestic Avian Visitors
Lighthouse Point attracts a variety of coastal birds, adding a touch of grace and beauty to the natural landscape. Watch as majestic pelicans glide effortlessly above the water, diving to catch their prey with precision. Observe elegant herons wading through shallow waters, patiently searching for fish. Look for seagulls soaring overhead and sandpipers scurrying along the shoreline. The town's coastal habitats provide ample opportunities for birdwatching and capturing incredible moments with your camera.
3. Wildlife Refuges and Parks: Biodiversity Hotspots
Explore the nearby wildlife refuges and parks to immerse yourself in the wonders of nature. Nearby sanctuaries, such as the Loxahatchee National Wildlife Refuge and the Everglades, offer a chance to encounter a vast array of wildlife. Keep an eye out for elusive alligators, curious turtles, and a variety of bird species, including colorful herons, ibises, and ospreys. These protected areas provide a glimpse into the rich biodiversity of the region.
4. Butterfly Gardens: Delicate Beauty in Flight
Lighthouse Point is home to butterfly gardens where you can witness the delicate beauty of these winged wonders up close. Marvel at the vibrant colors and graceful flight of various butterfly species as they flutter amidst blooming flowers. These gardens serve as both educational and enchanting experiences, allowing you to appreciate the intricate patterns and delicate nature of these captivating insects.
Remember to observe wildlife from a respectful distance and avoid disturbing their natural behaviors. Take the time to appreciate the beauty and diversity of the local wildlife in Lighthouse Point, and cherish the unforgettable encounters with these marvelous creatures during your visit.
In conclusion, Lighthouse Point in Florida, offers a delightful blend of natural beauty, coastal attractions, and a rich historical heritage. From the iconic Hillsboro Inlet Lighthouse guiding ships for over a century to the town's fishing roots and maritime traditions, there's a story waiting to be discovered at every turn. The unspoiled beaches provide a tranquil escape, while the parks and green spaces offer opportunities for relaxation and outdoor activities.
Visitors can delve into the town's past at the Lighthouse Point Historical Society Museum and appreciate the efforts to preserve its natural resources. Whether you're exploring the vibrant marinas, indulging in fresh seafood, or immersing yourself in the nautical culture, Lighthouse Point invites you to experience its unique coastal charm. So pack your bags, embrace the sun, sand, and serenity, and embark on a journey to uncover the captivating history of Lighthouse Point, where the past and present seamlessly converge in this picturesque coastal haven.